Stanley Bernath, a Holocaust survivor whose story will be preserved for generations to come, is remembered for his care for others and the impact he made on individuals for sharing lessons he learned as a survivor. He died March 26 at age 92.
Bernath began sharing his story of surviving concentration camps when his niece asked him to talk to her class at Cleveland Heights High School more than 40 years ago. The class was taught by Leatrice Rabinksy, a noted Holocaust scholar. Before this point, Bernath had kept silent about sharing his experience.
After his first speaking engagement and seeing the impact it had on the students, he slowly began building momentum by telling his story a handful of times a year. He would make appearances at synagogues, churches and Jewish and non-Jewish organizations. Doing so led him to start volunteering at the Maltz Museum of Jewish Heritage in Beachwood, where he spoke to students and professionals.
"He could see how it was affecting his audience," said Lisa Bernath, Stanley Bernath's daughter. "The idea that he could touch somebody with his story was the reason he kept doing it. He would get letters that the kids would write from high school classes and he would read what it meant to them and so he wanted to keep doing it."
David Schafer, managing director at the Maltz Museum, said when students enter the museum's auditorium to listen to a Holocaust survivor talk, they're often fidgety and noisy. Yet when a survivor start telling their story, Schafer sees the room of students transform. 
"They are hearing from someone who lived that history and you can hear a pin drop," he said. "Some of our students have real challenges and obstacles ranging from dysfunctional homes, poverty, viewing themselves as victims. When you hear from someone like Stanley who is now talking about never give up, it gives them a sense that they too can overcome obstacles."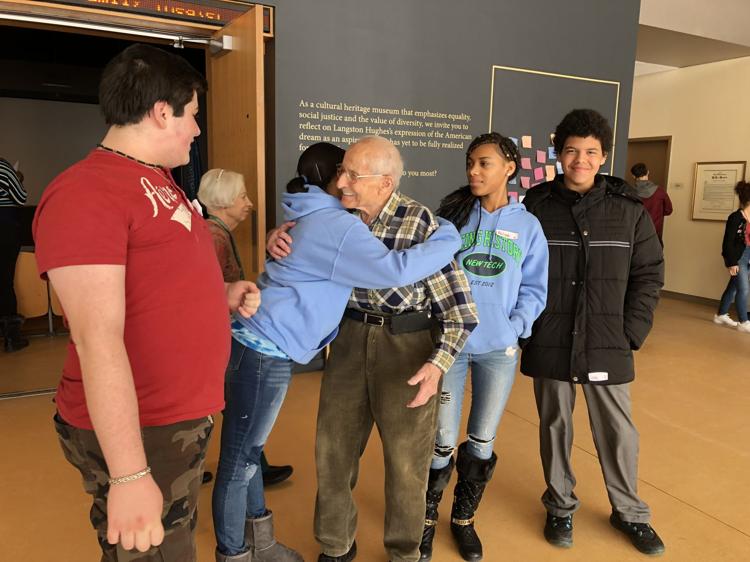 Bernath knew there would be a day he couldn't tell his story, but it wouldn't die with him. Due to a collaboration with the Maltz Museum and the USC Shoah Foundation's Dimensions in Testimony, an interactive visual recording that appears as a hologram-like projection of Bernath will be installed at the Maltz Museum. Future visitors will be able to ask questions to the visual recording, which in turn can be answered by Bernath's recording.      
"It will enable him to continue to share his message even after he's gone, which is now, and he knew that," said Vera Dunagan, Bernath's daughter.
To gather responses for possible questions that could be asked to the recording, Bernath traveled to Los Angeles in August 2017, where he answered more than 400 questions during two 10-hour spans over two days, while being recorded by more than 100 cameras from a variety of angles. The result is a hologram-like projections of Bernath that can respond to those questions asked through a connected microphone.   
Stanley Bernath estimates that he tells the story of how he survived the Holocaust 10 to 15 times a year. He's recounted his experience in fro…
Ken Liffman chairs the Survivor Memory Project at the Maltz Museum, which preserves survivors' stories. He said Bernath recognized the potential of the visual recording as a learning tool for children. Bernath is one of 15 survivors to take part in Dimensions in Testimony and have had their image become an interactive visual recording. 
"He was thrilled to be part of something that would outlive him, which is sadly true, and that would continue to educate (others)," Liffman said.     
Bernath was also described as a "life force" at Menorah Park in Beachwood, said Rabbi Joseph Kirsch, the associate director of spiritual living. 
Bernath would daily visit his wife, Arlene, when she stayed at Menorah Park. After she died in 2015, he continued coming in almost daily to "make his rounds" with the other residents. Kirsch said Bernath had an eye to find residents who were either in hospice or didn't have family visiting often and needed company. 
"He brought an overwhelming amount of spiritual energy, of love, of care, a genuine concern for each and every resident on campus," Kirsch said. "It meant even so much more from someone who did not have an easy life because he was an Auschwitz survivor that saw unimaginable horrific things that we can't really even imagine. Somehow, he found it in himself not to be a human being with hate, he was just total love and care."
Dunagan said Bernath didn't volunteer for attention. In fact, he would often say he was selfish for volunteering.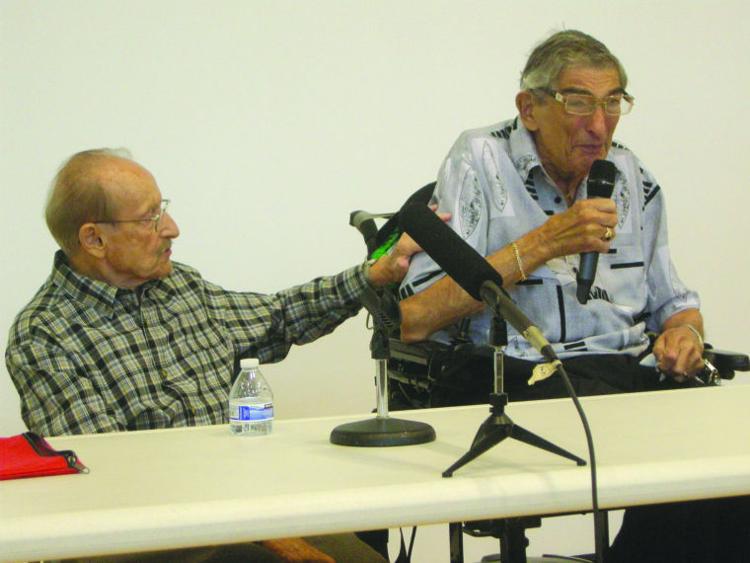 "He said he was a selfish man because he was doing it for himself because he just loved everybody else, he loved helping people, he was very humble," Dunagan said. 
After surviving Mauthausen and Auschwitz-Birkenau concentration camps among others, Bernath came up with a motto he shared during his many speaking engagements. He shared it often enough that many people are able to recite it word for word: 
"Never give up no matter how bad it seems," Schafer said.  
"Always believe in yourself," Kirsch continued.
"No one is better than I am and I'm not better than anyone else, just different," Lisa Bernath said.
Stanley Bernath repeated it again when he gave his testimony for the USC Shoah Foundation. It will be one part of Bernath's story that will continue being told in his recording.
Bernath was the father of Vera (Ed) Dunagan and Lisa Bernath. He was the grandfather of Shawn Dunagan, Adam Antelyes and Leah Dunagan.
Services will be at 9:30 a.m. March 29 at Mount Olive Cemetery, 27855 Aurora Road in Solon. Family will receive friends after the service until 3 p.m. March 29 at Menorah Park, 27100 Cedar Road. Visitation will be from noon to 6 p.m. March 31 and from 2 to 4 and 6 to 8 p.m. April 1 at24 Caronia Drive in Lyndhurst.