Although most young professionals like living and working in Cleveland, they're not likely to promote the city, according to a recent survey by Engage! Cleveland.
The nonprofit group released its second annual "State of the Young Professional Community Survey" in September. Some 967 people were asked about assets and challenges, why they live here and why they would leave.
The critical finding for those who hope to attract and retain additional young minds to the city was about their willingness to promote the city.
"They are the most likely group of people to influence their colleagues and peers on the reality of what it's like to live in Cleveland today," said Gary Shamis, board chair of Engage! Cleveland. "It was really surprising. It's not hard doing social media. I think the tools are there. They just need to deploy the tools."
While the overall perception of the quality of life afforded in Greater Cleveland was called very positive by 17% of respondents and positive by 48%, just 37% said they would be likely to recommend the area to friends and families considering locating here. Some 42% said they would be passive and 21% were listed as detractors.
Ashley Basile Oeken, president of Engage! Cleveland, also focused on that statistic.
"Knowing the work in particular that I believe the Jewish Federation of Cleveland has led, I think the big takeaway is that we are dealing with a different generation and I think the same sort of old tactics won't work," she said. "I think the Jewish community partnering with the broader Cleveland community will really elevate everyone."
She said a focus by funders on talent attraction, retention and engagement strategies will elevate Cleveland.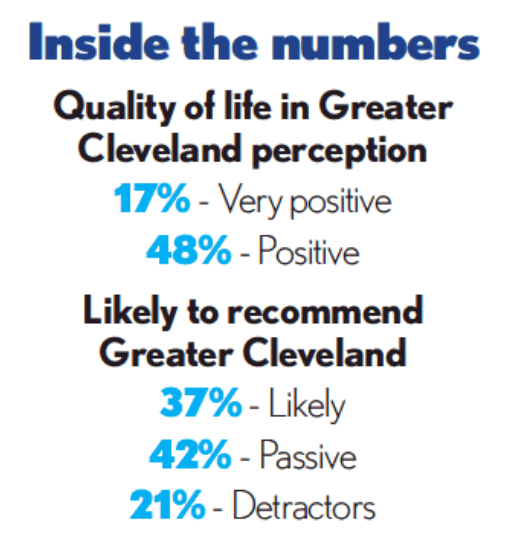 "I think if you're promoting a positive experience in Cleveland, you're also promoting a positive Jewish experience in Cleveland," she said. "They go hand in hand in my opinion. So I think it's something that if the whole tide rises, we will all rise with it."
Public transportation emerged as the top challenge for young professionals in Cleveland. Engage! Cleveland plans to meet with RTA officials in the coming weeks about that finding.
India Birdsong, general manager of Greater Cleveland Regional Transit Authority, said adding transparency will help build trust.
"A major player, I think in our success, is going to be infrastructure investment when it comes to your first impression," Birdsong said. "I would say that's important – so feeling that the system is safe, reliable, and generally just a good place to be on your way to work or home is probably the first step. And then cleaning up internal practices that we could become more efficient. I've only been here for two weeks but I see a lot of opportunities for improvement and I look forward to it."
After public transportation, the survey found young professionals list Cleveland's greatest challenges were public safety and economic development. Its greatest assets were cost of living, natural assets, and arts and culture.
To improve the vibrancy of downtown, those surveyed recommended better housing, public transportation, improved amenities, better access to the lakefront, increased density of residents, increased community programming and educational options.
The survey will be repeated in two years.
---
Publisher's note: Gary Shamis is a past board chair of the Cleveland Jewish Publication Company Board of Directors.