A swastika and graffiti were found on several buildings, including Jewish Learning Connection, near Cedar and South Green roads in University Heights on July 26.
The swastika was found on a wall of the Friedman, Leavitt & Associates, Inc. building at 2193 S. Green Road.
Graffiti was found on walls of the following locations: Jewish Learning Connection, which is based at The Waxman Torah Center at 2195 S. Green Road; Mika's Wig Boutique & Spa at 2199 S. Green Road; and a covered walkway between Salon
Victoria at 2161 S. Green Road and Rose's Tailoring at 2167 S. Green Road. Graffiti was also found on an exterior door at Heinen's at 2180 S. Green Road, directly across the street.
David Leavitt, a co-partner at Friedman, Leavitt, told the Cleveland Jewish News he learned of the swastika and graffiti from one of his employees who arrived for work. He said there was also graffiti of "a giant penis with a 666," the number associated with the devil.
Friedman, Leavitt owns the building and has been at that location for 30 years without incident.
"I think it is a sad world we live in, so much hate," Leavitt said. "It just makes me feel bad about the world. I don't know why people need to hate. If everybody would just love each other, we would be in a much better place.
"By the time I got there, one of the workers from next door had already washed everything off my building, actually I didn't really see it," Leavitt said. "The police had told me the same person that did this actually did it last weekend also on Heinen's and some other buildings over there."
Rabbi Yossi Nisenbaum arrived at about 8 a.m. at JLC.
"The swastika wasn't on our building, it was on the building right next to us like 5 feet away, facing us," he said, referring to the accounting office. "We're assuming it was intended toward us because we're the Jewish center there. And on the other side, something about 'G-d is something' (was written), but I couldn't exactly make out the words. There were other things, curse words. It looked like they were running out of spray paint."
He said one of his congregants who works in construction removed the swastika and some graffiti.
"We're pretty concerned, it's pretty scary," Nisenbaum said. "It's not a common thing to find on a synagogue."
JLC has been in its building for 13 years and Rabbi Ephraim Nisenbaum, co-founder and director, said this is the first time anything like this has happened.
"We came this morning and we saw there was spray paint on three buildings," he said. "Our building had some kind of image, but I don't know what exactly. There were obscenities there also."
Jeff Corbett, a JLC congregant and volunteer security liaison, said he was notified of the vandalism by Rabbi Yossi Nisenbaum at about 8 a.m. Corbett said he then notified the Jewish Federation of Cleveland in Beachwood and the police.
He said he was "astonished, but not surprised because being involved with security, I know that it's happening increasingly around the country and around the world."
"666 PARTY WITH THE DEVIL BITCH" and images were spray painted on a wall at Mika's.
Lt. Todd Kinley of the University Heights Police Department told the CJN on July 27, "There were symbols that we're not sure what they are. We sent them down to the Fusion Center to see if they can tell us what they mean."
He also said "F(expletive) the police" was spray painted on a wall, and graffiti was found at Heinen's last week.
Kinley said police will check surveillance video from area businesses.
"I have our detectives out there scouring that area to see what, if any, video we might be able to obtain to assist us," he said. "Once and if we obtain something useful that we can put out to the public to help us identify, then we will.
"We know there's cameras out there, but what we don't know on all of them a) were they on? And b) if they were on, did they capture anything? (And) c) if they captured anything, what's the quality of it and what's it going to show us?"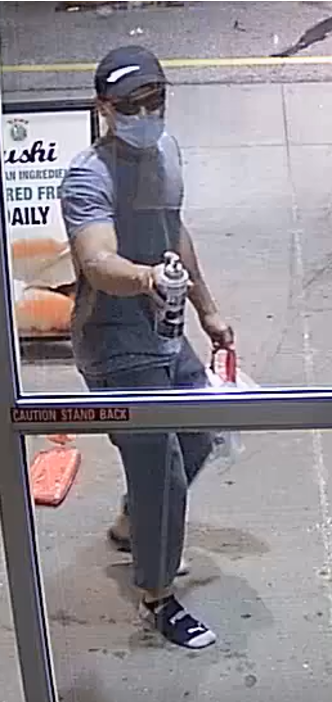 Kinley said the department's night patrol will be on "a heightened sense of what's going on there."
Asked if the same person or persons could be involved in the incidents from last week and this week, Kinley said, "Who's to say, but I wouldn't be surprised."
University Heights Mayor Michael Dylan Brennan said in a statement to the CJN: "Today, our citizens discovered a pitiful act done under cover of darkness. The graffiti on several buildings in our community was not only childish, nasty and small, it was anti-Semitic. What we saw on those walls is not reflective of our community. University Heights is a welcoming community. We embrace our Jewish neighbors, and today we all share in the pain.
"This matter is under investigation. Regardless of the outcome, we will persevere, together. We do not let a lost soul change what we stand for. This is our home, and we do not live in fear."
James Pasch, regional director of the Anti-Defamation League Cleveland's office, and Sara Scheinbach, senior associate regional director, said in a statement to the CJN: "For anti-Semitic vandalism to occur anywhere is an affront to Jewish people everywhere. For anti-Semitic vandalism to occur right here in University Heights, in the heart of our local Jewish community, feels like a personal attack. This abhorrent graffiti occurred in a shopping center made up of historically Jewish-owned businesses that many in the Cleveland Jewish community patronize regularly. This one hits home.
"It is unacceptable that these acts of hate continue to occur at such a high frequency. We know all too well that hate speech festers, and it can mutate into real-world violence. As a community, we must stand together, and with a unified voice we must reject this anti-Semitism and hate. Anti-Semitism has no place in Ohio."