Following a closure of more than 60 days, co-owner Alvie Markowitz described the reopening of Jack's Deli and Restaurant in University Heights May 21 as a success.
"I wasn't surprised because I expected my place to be packed – which it really wasn't inside because people are still a little wary of coming back," Markowitz told the CJN on May 22, the second day that dine-in restaurants were open since the COVID-19 pandemic. He and co-owner Gary Lebowitz served "hundreds of people" that day, but the majority of orders placed were for carry-out.
As for the deli's most sought-after menu items right off the bat, Markowitz said, "Corned beef, corned beef, corned beef, Reubens, corned beef."
Ohio Gov. Mike DeWine mandated all restaurants close their dining rooms effective March 15. While restaurants were permitted to remain open for carry-out and delivery, some establishments, including Jack's Deli at 14490 Cedar Road and Corky & Lenny's at 27091 Chagrin Blvd. in Woodmere, chose to close.
Markowitz said his staff was able to collect unemployment benefits until he secured a Paycheck Protection Program loan in April. He paid his employees to stay home for a month until the deli reopened.
The shutdown had one silver lining for Markowitz.
"My wife and I have been married for 40 years and this was the first year I ever made her breakfast on Mother's Day, because I was usually making breakfast for every other mother in the city of Cleveland," Markowitz said. "She was so ecstatic."
DeWine announced restaurants and bars could reopen for outside dining on May 15 and dine-in service on May 21. Rather than having a hard and fast rule for capacity, the businesses, which are already heavily regulated for health and safety standards, were asked to create floor plans that follow social distancing guidelines.
Prior to reopening, Markowitz and Lebowitz installed acrylic shields in front of the restaurant's cash register and between booths in the dining room. They also placed hand sanitizer stations throughout the restaurant.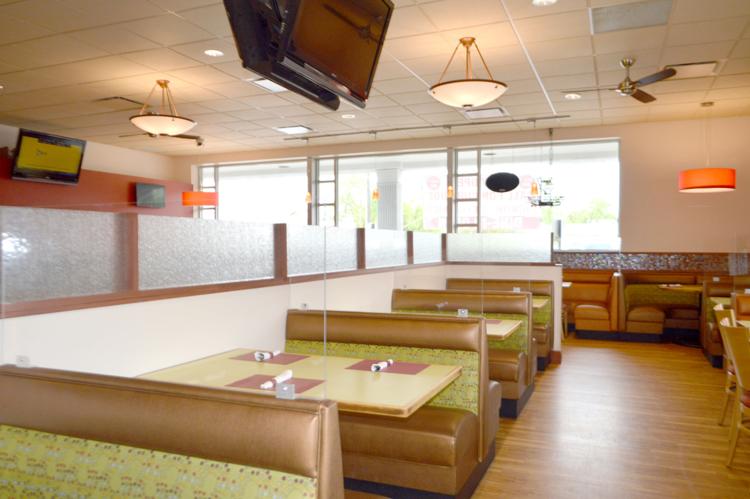 Noting the dining room seats 130, Markowitz said seating will be limited to booths, and at this point, only between 50 and 60 patrons will be permitted at a time.
The restaurant is also using single-use paper menus. As far as silverware, it's being thoroughly washed and rolled in a napkin, which Lebowitz said they have long done and is now DeWine's recommendation.
"We're sanitizing and wiping down doors, we're keeping everything clean," Markowitz said.
Employees, including Markowitz and Lebowitz, must take their temperature upon arrival each morning.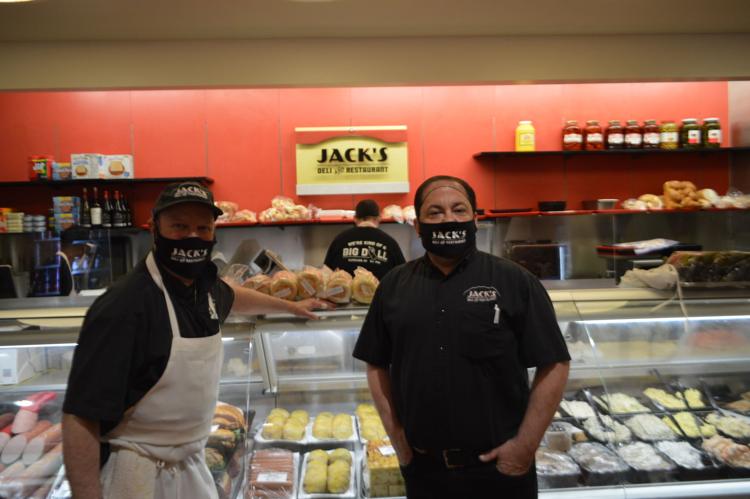 "Anybody that's 100 degrees or over must leave and go home, and until their temperature comes down, they can't come back to work," Markowitz said. "They'll get paid for it for right now."
Block's Bagels, Bakery & Deli at 6115 McNaughten Road in Columbus and 3012 E. Broad St. near Bexley stayed open for carry-out, delivery and curbside pickup throughout the pandemic, and now dine-in service is back.
Co-owner Hal Block said he considers himself lucky to have been able to support his staff during these uncertain times.
"We've got good help that's been with me a lot of years," Block said. "The profit picture was very small, but that was OK because we were able to pay our bills, pay our rent and take care of the people that have been with me for a long time. That was the most essential thing."
Block said few people have taken advantage of the family-owned bagel shop's dining rooms since they reopened.
"People are very, very, very careful," Block said.
Only half of the restaurant is open to limit capacity. In the dining room, every other table is blocked off to encourage social distancing. Those picking up carry-out orders will notice tape on the floor to offer a clear demarcation of where people can stand while keeping 6 feet between customers.
Block said his shop's "great reputation" of serving "good food" is why his regulars continued showing their support throughout the pandemic.
"We take care of our customers," Block said. "We've been part of the Jewish community for 60-some odd years. So, we're well known."
Markowitz said Jack's Deli had a different experience its first day back.
"I didn't really know nine out of the 10 customers that walked in here," Markowitz said. "That was a huge surprise to me, and I had a tremendous day. So when my customers do feel like coming back into this dining room and actually feel more safe, and all these people that we fed yesterday told them Jack's is open, going forward it's going to be really great."
Owner Kenny Kurland closed Corky & Lenny's on March 18 and is in no rush to reopen.
Kurland has used the restaurant's closure to his advantage and is currently having a new computer system installed.
"I still wasn't overly comfortable for my employees and for customers," Kurland said. "I just figured, I'm about ready pretty soon. I didn't have to be the first one to reopen and I didn't have to be the last one to reopen."
He said his employees have been able to collect unemployment benefits and he has just started to bring people back as needed. He plans to open his doors again on June 9.
"We'll be practicing all the social distancing like everybody else is doing," Kurland said.
He said Plexiglass has been installed in front of the cash register.
"We'll be putting down that tape and spacing everything out," Kurland said. "We're going to have partitions in between most of our booths and then we're just going to clean and sanitize and be wiping constantly, and trying to do the right thing."