Pat Corrigan was under the assumption that his work at Mayfield Cemetery in Cleveland Heights was only for the summer.
Starting after he graduated from Cleveland Heights High School in 1969, he became a crew member for the cemetery, where he and the grounds team did everything required for the land's maintenance – from cutting down trees to digging graves to repairing sewers.
He continued this seasonal stint throughout his college career at John Carroll University in University Heights, where he majored in sociology, and some post-graduate work.
As time went on and Corrigan struggled with discovering his life's calling, he found himself continuing the hard summer labor he enjoyed so much. It was after he became Mayfield Cemetery's superintendent, in charge of the business end from handling payroll to keeping records to arranging funerals, in September 1977 that Corrigan realized his perfect job had been under his nose since he was 18.
He remained superintendent of Mayfield Cemetery until December 2020, when he retired.
"Working there was really an honor of mine," said Corrigan, a resident of Avon Lake. "You're talking about a guy who started when he was wet behind the ears out of high school; I didn't have any thoughts of being a doctor, a lawyer or anything of that nature. It was a wonderful opportunity for somebody who didn't know where he wanted to go, who all of a sudden could now really feel part of something bigger than himself."
Mayfield Cemetery has been owned by Anshe Chesed Fairmount Temple and The Temple-Tifereth Israel, both in Beachwood, for more than 130 years. The two temples have a board with members from each temple created to see to the management of the cemetery. The board selects a superintendent in charge of maintaining the cemetery's day-to-day operations.
Despite not being Jewish, Corrigan has been praised by both temples as being a vital component of their funerals. The two temples appreciated Corrigan's efforts so much they are hosting a retirement ceremony for him on April 21.
"The Jewish community is really forever indebted to Pat," said Eric Silver, who served as a Mayfield Cemetery board member from Fairmount Temple. "The event signals our appreciation, but there really is no possible way to repay him for the dedication that he showed to us."
Silver said Corrigan had a knack for comforting families during their time of mourning, and his ability to connect with others experiencing different levels of grief made him a calming presence. Silver compared Corrigan to a beloved, longtime teacher due to his ability to positively impact an entire community of people.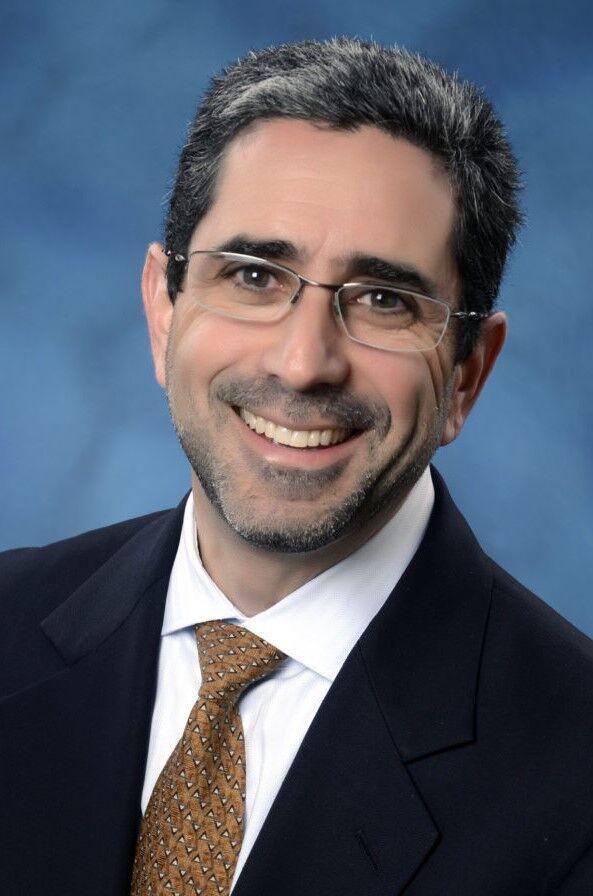 "His expertise was making each family feel like they were the only family that mattered," said Silver, a resident of Beachwood and a member of Fairmount Temple and Park Synagogue in Cleveland Heights and Pepper Pike. "He has probably touched just as many members of the Jewish community as some longstanding teachers have, and he's done it with professionalism, care and compassion."
Throughout his years working with the Jewish community, Corrigan discovered the nurturing sense of inclusivity that Judaism espouses. Corrigan grew up in the Catholic faith, yet he did not view himself as a religious man. His first wife was Jewish and his three children grew up attending Sunday school at TTTI. It was in those moments where he picked up his children from Sunday school or helped orchestrate a funeral that Corrigan found a warmth he hadn't experienced in Catholicism, he said.
"In Catholicism, you hear the stories about the nuns with the rulers, and there was a lot of truth to that," Corrigan said. "It was a much more strict, much more disciplined environment. With the Jewish congregations, it was much more of a communal environment. It was more of a family, more singing, telling stories, and it was a totally different experience than what I went through."
Corrigan quickly picked up Jewish funeral practices. He learned from the board of directors, temple rabbis, executive directors and other cemetery association members throughout the years.
His younger brother, Francis Corrigan, similarly entered the funeral industry and owns Shapiro Funeral Services in Orange with his wife, Natalie Shapiro.
Corrigan watched as the job he started as a young man molded into one of the modern era. The cemetery records became computerized, the staff size shrank due to advancements in technology and dangerous work was instead given to outside professionals.
His decision to retire after nearly a half-century of work comes from his excitement to start the next chapter of his life, he said. At 70, Corrigan looks forward to spending time with his grandchildren and wife, traveling on his motorcycle and continuing his longtime passion of photography – once his knees heal after undergoing knee replacement surgeries in January and March.
Mayfield Cemetery will always be deeply ingrained in his life, he said, especially because his son Ryan is the grounds foreman at the cemetery, and his daughter and two of his grandchildren live at the cemetery's residence.
"It's wonderful to be honored, but it was working in a culture that really afforded me an easy opportunity to be part of, so I owe them as much thanks as they think they owe me," Corrigan said. "It's really all about family. That's what it became. It was important to me on a personal level, as well, for my own personal growth."