Shortly after the death of his brother, Jack, in May 2011, Morton Mandel approached Rabbi Richard A. Block, senior rabbi of The Temple-Tifereth Israel in Beachwood, with a question that would ultimately have a profound impact on the temple's future.
"He wanted to do something in memory of Jack and (Jack's) wife, Lilyan, and he asked, 'What do you need?'" Block said. "I said, 'What we need is to expand and modernize this building.'
"He asked what that might involve in terms of cost, and I said I didn't know, but we would look into it, and he said, 'Find out and we'll discuss it again.'"
That set the wheels in motion for temple leaders to determine how much money would be needed to renovate The Temple at 26000 Shaker Blvd. and its Ganon Gil Preschool, to realize their vision for the future.
The result was a challenge grant of up to $16 million from the Jack, Joseph and Morton Mandel Foundation – of which Morton Mandel is chairman and CEO – in memory of Jack and Lilyan Mandel.
About $12 million of that sum, matched by congregants' contributions, was to be devoted to the building project, with the balance going toward the congregation's endowment.
A campaign for the project, TempleTomorrow, was launched in June 2013 with Mandel's challenge grant. A ceremonial groundbreaking took place in October 2014, and construction began in March 2015.
Eighteen months later, the project is almost completed, at an estimated cost of $24.5 million, and a dedication ceremony is planned at The Temple.
"It's way beyond our expectations," said Jeanne Tobin, chair of TempleTomorrow and the temple's immediate past president. "People who just drive by call to say, 'Wow!' We had exquisite partnerships and a very cooperative congregation throughout the process."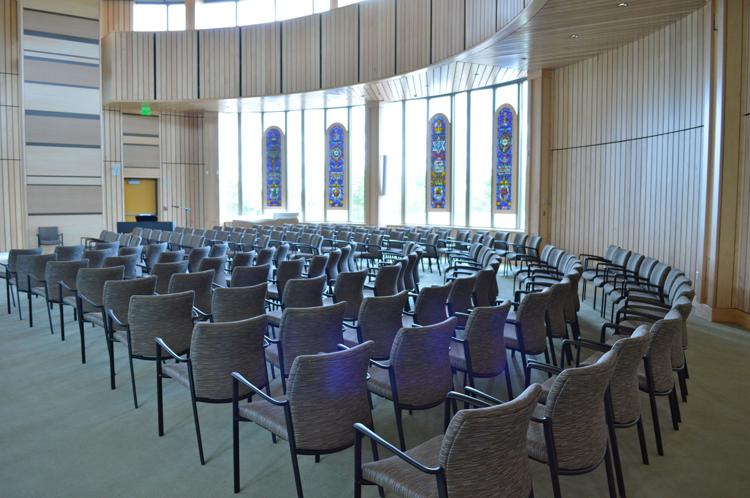 Bruce Goodman, building chair for the campaign and also a past temple president, said, "I think we're all thrilled."
"What we've created here is beyond our wildest dreams," he said.
Tobin said the $16 million gift from the Mandel Foundation was "brilliantly structured."
"I think we estimated that renovations to the building would cost $24 million at the time, or close to that," she said. "So Morton Mandel said, 'Here's (up to) $16 million. Match $12 million of it to build your $24 million building, and match $4 million of it to strengthen your endowment to $8 million, so you can continue to support the programming that is so important to this congregation.'
"Not only did we raise the money, we raised the engagement. The congregation truly feels as if they are a partner in this."
When it became clear the estimated cost of the project would be $24.5 million, the $12 million match was changed to $12.25 million, and the endowment match was reduced to $3.75 million, Block said.
"Before we broke ground, we had sufficient commitments to complete the capital project," Block said. "Our campaign is continuing, and everything that is raised from this point on will supplement the endowment."
Building originally a school
Block, who has been The Temple's senior rabbi since 2001, said when The Temple's Beachwood facility was built in 1970, it was done to house religious school programs for families living in the eastern suburbs. The building gradually became the center of temple life, as the former main building at University Circle in Cleveland was used principally for ceremonial occasions.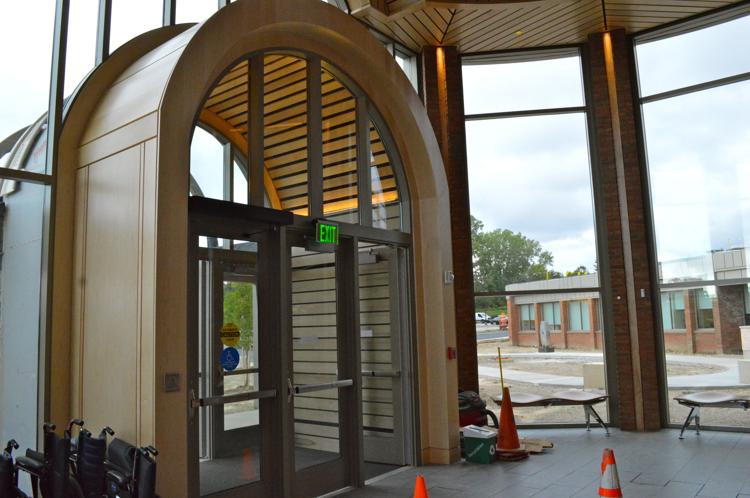 Last year, that landmark building on the campus of Case Western Reserve University was repurposed as the Milton and Tamar Maltz Performing Arts Center at The Temple-Tifereth Israel. The Temple's partnership with CWRU allows for guaranteed use of the facility eight days per year, including for High Holy Days services, Block said.
"We did have a couple expansions (of the Beachwood facility), but we never had a comprehensive master plan for this building as the full-service home of the congregation, and this project enabled us to do that," Block said. "It's what's needed for the congregation today and in the coming years."
A highlight of the project is a domed chapel, a tribute to the gold dome at the University Circle temple. The chapel and adjacent lobby feature a collection of 15 stained-glass windows designed by the prominent 20th-century artist, Arthur Szyk, that were previously in the Gries Memorial Chapel at the University Circle facility.
"There are three 'warrior windows,' which depict great warriors in Jewish history, and 12 windows for the 12 tribes of Israel," Block said. "Those windows have the names of 22 members of the temple who died in service during World War II, so they mean a great deal to the temple."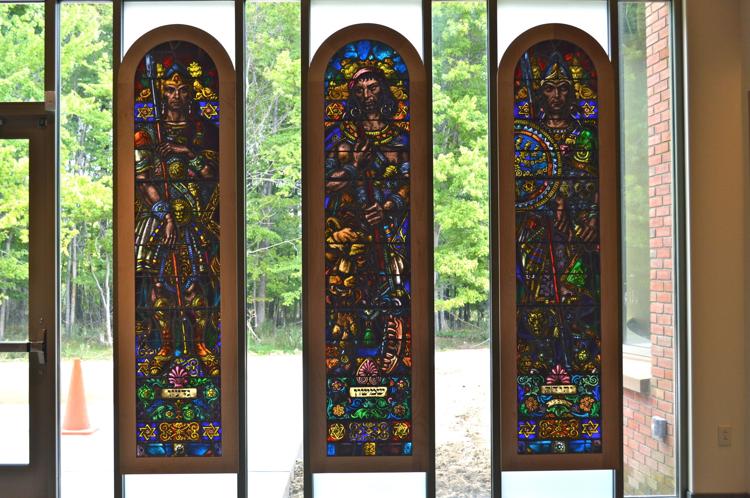 These windows have been restored, juxtaposed with a modern design, Block said. He added that the ark in the new chapel – which can seat 250 to 300 with movable chairs – has been reconditioned with stained-glass doors and panels.
"All of this together is a visual representation of our temple's vision statement, which says, 'We cherish our rich history and traditions and foster a dynamic culture of imagination and innovation,'" Block said. "So it's a spectacularly beautiful room, but it speaks to what this temple is all about."
A new main entrance also features a smaller dome over it, with a community commons inside, signage directing people, and easy access to the sanctuary.
"We have these domes here, not to replace (the one at University Circle), but to remind us where we were and contemporize it for today and tomorrow," Tobin said.
The façade of the chapel, facing The Temple's entry drive, is a tablet-shaped wall of Jerusalem stone that harmonizes with the nearby Maltz Museum of Jewish Heritage and speaks to the congregation's devotion to Israel, Block said.
"Also, when the light hits it the right way, you can sort of see a burning bush represented there," he said.
All classrooms under one roof
Another important aspect of the project is a new state-of-the-art play area for the Ganon Gil Early Childhood Center, which offers care for infants through preschool-age children.
"It even has a climbing wall for the kids," Block said. "It's really beautiful."
Block noted that for many years, the temple had to rent religious school classrooms at the nearby Joseph and Florence Mandel Jewish Day School and Siegal facility because there wasn't enough space in The Temple. The expansion of Ganon Gil has allowed the temple to create more space in the building for those classrooms and to relocate administrative offices, he said.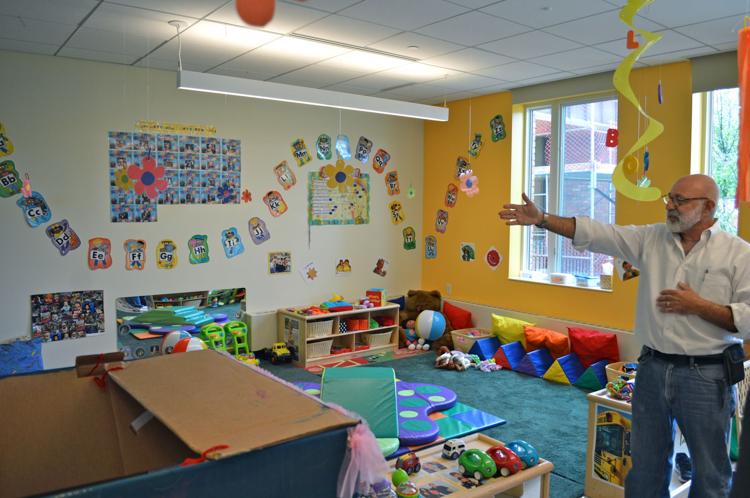 "That was an important element, to add enough classrooms so that our entire student body could be in this building," Goodman said.
Renovation of the sanctuary, which will seat 550 people, is still in progress but will be completed by the High Holy Days, which start the evening of Oct. 2 with Rosh Hashanah, Block said.
The Hartzmark Center for Jewish Art, Religion and Culture in Memory of Debra Hartzmark Jacobs, which houses The Temple's vast collection of Judaica, is a new use of space in the building.
Bob Allenick, The Temple's executive director, said one goal of the project was to create flexible-use spaces to accommodate a multitude of needs.
"We have a very vibrant congregation, and this building can meet the needs of that congregation," he said.
Temple president Donald Scherzer, who also has served as communications chair for the campaign, said the congregation played an active role in the process. He expressed his appreciation to Block for his vision and the work he did to involve the congregation and to Tobin, Goodman and campaign chair Amy Kaplan for their efforts.
"Jeannie and Bruce both spent an inordinate amount of time on this, and Amy Kaplan also played a major role," Scherzer said. "I cannot overstate the amount of work they've put into it and the wonderful job each of them has done."