In its illustrious 169-year history, The Temple-Tifereth Israel has been led by such distinguished senior rabbis as Rabbi Isador Kalisch, Rabbi Moses Gries, Rabbi Abba Hillel Silver, his son Rabbi Daniel Jeremy Silver and most recently, Rabbi Richard A. Block.
They and others established The Temple as a worldwide leader in Reform Judaism. They also set the foundation for Rabbi Jonathan Cohen, who was installed May 17 as The Temple's 12th senior rabbi and who will now continue the legacy of the Beachwood temple, one of the largest Reform institutions in the Midwest with about 1,350 families.
Cohen, 49, who replaced Block as senior rabbi on July 1, 2018, was praised by each speaker during a nearly two-and-a-half-hour Kabbalat Shabbat service and installation ceremony before an overflow crowd of 600 in the Jack and Lilyan Mandel Building's sanctuary.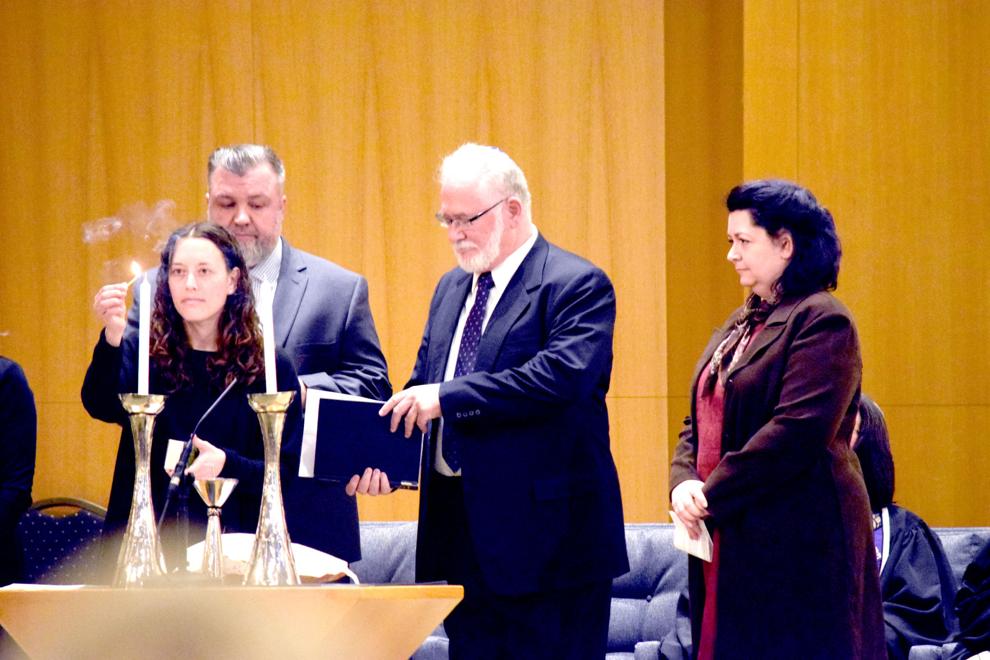 They lauded him as someone who is kind, gentle, caring and principled and identified him as a man who possesses qualities such as empathy and the ability to listen and express concern. They referred to Cohen as a friend, companion, sage and scholar – "every positive characteristic we look for in a rabbi," said David Ellenson, who is interim president and chancellor emeritus at Hebrew Union College-Jewish Institute of Religion in Cincinnati and ordained Cohen in 2012.
The Temple's rich history and pioneering rabbis were highlighted in a nearly 10-minute video presentation, "On the Shoulders of Giants: Building Our Congregation's Legacy," in which Kalisch, Gries, both Silvers and Block were referred to as "giants." 
Rabbi Samuel K. Joseph, who teaches in the rabbinical and education schools at HUC-JIR, was on the search committee that brought Cohen to HUC-JIR in 1998 as a staff member. Cohen then served as dean from 2011 to 2018.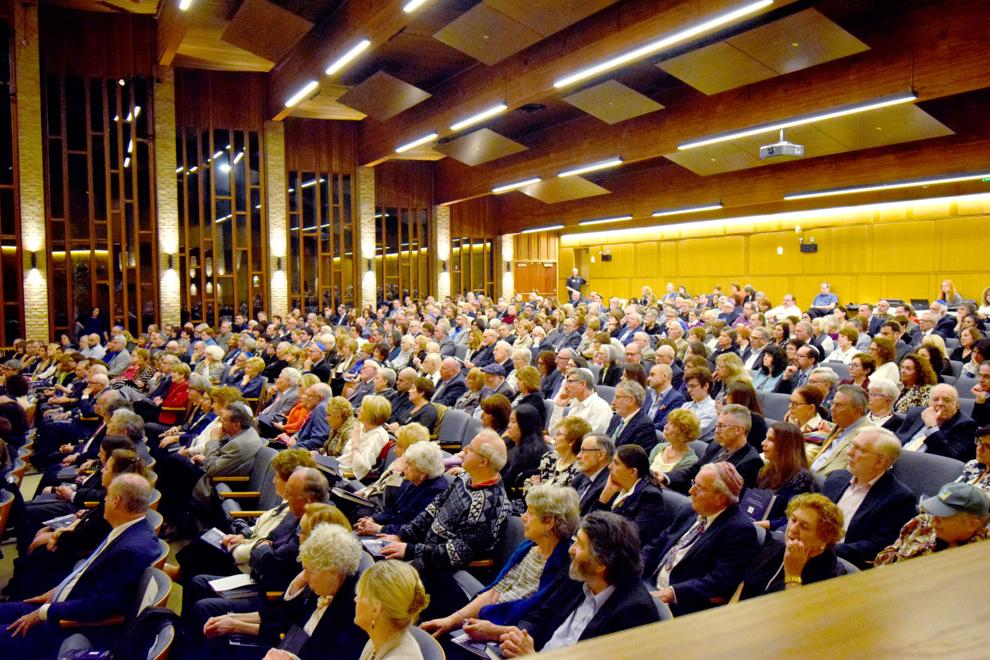 "Your references were stellar," Joseph recalled. "Now, we got to meet face to face and I tried to figure out this young Israeli with a British accent and a British Ph.D., serious and brilliant, kind and gentle, and with that great twinkle in his eyes … clearer and clearer it became to me that you were – and are –
something very special. You are my kind of teacher. Your passion for your students rivals your passion for your scholarship. Both compete for your time and for your attention.
"Rabbi Abraham Joshua Heschel teaches us, 'What we need more than anything else today is not textbooks, but text people. It is the personality of the teacher, which is the text our students read, the text they will never forget. You, Jonathan Cohen, are the text this congregation is reading and a wonderful, powerful text it is. How blessed is this congregation to have the benefit of receiving your fullest and most passionate time and attention. I know how much you care about connecting to people." 
Rabbi Sally J. Priesand, a Clevelander who became the first female rabbi in the United States ordained by a rabbinical seminary, has known Cohen for a long time and had him speak at her congregation in New Jersey, where she is now rabbi emerita. 
"I have known and admired Rabbi Cohen for many years in the various positions he has held," said Priesand, whose family was a member of Beth Israel-The West Temple in Cleveland when she was growing up and who has relatives who belong to The Temple. 
"He is a man of great knowledge and intellect, a consummate teacher and scholar.
"Like many of you, I stood in awe of Rabbi Abba Hillel Silver, who contributed so much to the history of Reform Judaism and our love for Israel. I was a teenager when he died just a few days after the assassination of President (John F.) Kennedy, but I remember how Cleveland lovingly embraced him and his legacy, a legacy that all of you continue to represent, a legacy that we will see visually when Rabbi Block passes the Torah to Rabbi Cohen. Rabbi Block, who has made his own unique contributions to the Reform movement, passing on the legacy that this congregation represents."
The highlight of the night was the passing of a Torah, which survived the Holocaust, from Block to Cohen to signify the transition in leadership of The Temple. 
"I am so grateful for the privilege of sharing the sacred moment with you, your family and our congregational family," Block said as he prepared to hand off the Torah to Cohen. "I never cease to be in awe of the dedication and sacrifice and leadership of those who came before, and as we pass the Torah to you, we acknowledge with gratitude your very special place in the chain of generations of this congregation."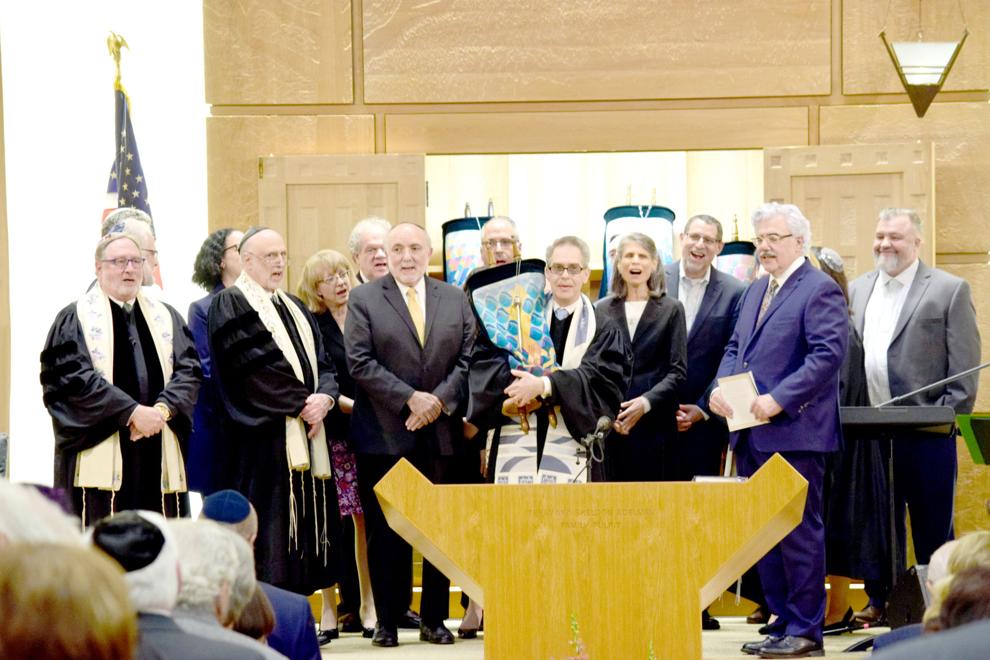 Cohen then offered remarks as his wife, Yael Senamaud, and their children Eden, Yasha and Ella looked on.
"The honor that you have bestowed upon me today is one that I could not have imagined, and I wish I could say I had dreamed of (it), but I did not," he said. "I am grateful, I am honored and I am humbled. I'm excited and intimidated, all at the same time. Thank you for this trust. Thank you for the love. Thank you for the embrace. Thank you for the appreciation, especially on this day."
While his parents were unable to attend, they watched it on livestream. Cohen's brother, Gil'ad N. Cohen, and his sister, Netta Cohen, attended and read remarks from their parents.
The Temple clergy, Rabbi Roger C. Klein, Rabbi Stacy L. Schlein and Cantor Kathryn Wolfe Sebo led the service. Participants included rabbis, a minister and an imam.
Installation weekend continued May 18 with the rabbis participating in The Silver Scholar Symposium Shabbat morning, guest artist and hip-hop performer Napoleon Maddox leading an artist workshop in the afternoon, and Havdalah and concert featuring Sorg, a young beat maker from France, and Maddox.