The Temple-Tifereth Israel in Beachwood will hold its first inclusion TGIS, or Thank G-d It's Shabbat service, which will include Braille siddurs and sign language, at 7:30 p.m. Feb. 22. The service's music and readings will be projected on a large screen.
"This is the first of what we know will be much more comprehensive efforts at Temple," said Rob Ross, director of the Temple Arts Program. "As an example, we celebrated our first 'Pride TGIS' service last year that will become, through popular demand, an annual service and focus for our community. Our next Pride TGIS will be in June 2019."
The inclusion service will be led by Rabbi Stacy Schlein and Ross, with sign language provided by congregant Karen Schiller.
The Temple's social action committee will provide a wine, cheese and dessert oneg.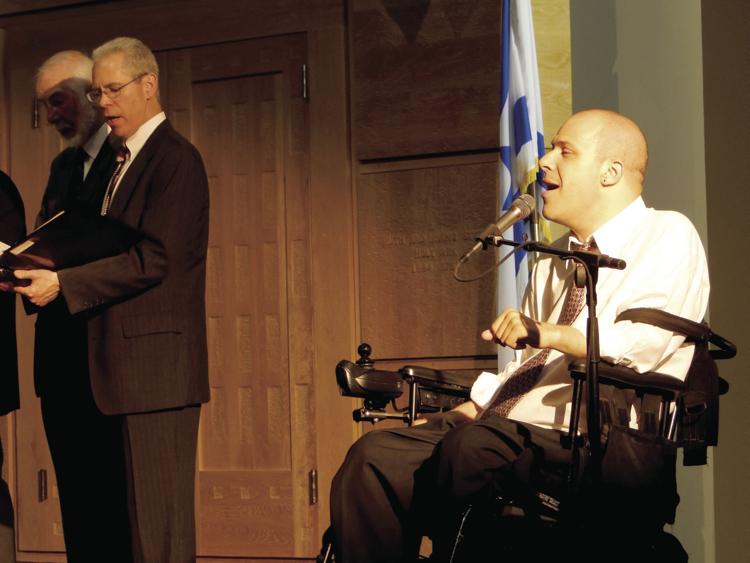 For more than a year, congregants, staff and clergy went through an extremely thorough process with the Temple's inclusion task force to compile the needs of the community and to identify areas for attention, he said.
That included evaluating the building's access, identifying additional programming from religious school to the arts program, locating sources of funding, and improving communications with congregants.
The inclusion task force created a mission statement that said "Our mission is to help our synagogue community become increasingly accessible and inclusive, one that becomes stronger by enabling all persons to participate fully." 
Ross, who also is a congregant and uses a wheelchair after suffering a broken neck as a result of a diving accident in the Pacific Ocean when he was 18, said, "I can tell you that our focus is laser sharp on our entire community, no matter their need. We will continue to address those needs as expeditiously as possible and to strive toward a repairing of the world, tikkun olam, enabling our community to fully participate in all that we do and all that we are."
The Temple is at 26000 Shaker Blvd.
For more information, contact Ross at rross@ttti.org