Racism is an essential contributor to Cleveland's deep-seated poverty, August "Augie" Napoli, president and CEO of the United Way of Greater Cleveland, told the 1,100 people gathered at the anti-poverty agency's Annual Community Luncheon.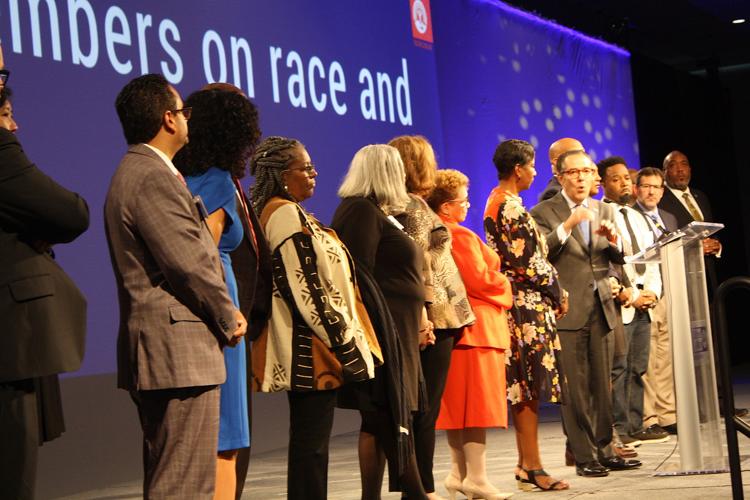 The Sept. 27 event, titled "The Power of You" at the Huntington Convention Center of Cleveland included a panel discussion on housing stability and poverty, with speakers explaining initiatives on lead paint and free legal counsel to those facing evictions. The conversation was moderated by WKYC anchor and managing editor Russ Mitchell, who served as the event's emcee.
Paul J. Dolan, chairman of the United Way board as well as owner, chairman and CEO of the Cleveland Indians, said after serving his first year at the helm of United Way, he is confident that the organization places "the person in need at the center of all we do."
He said United Way is the largest private sector investor in health and human services in the region.
Napoli announced a United Way partnership with the United Black Fund of Greater Cleveland to form the Equity Leadership Council as part of United Way's newly formed Impact Institute, which will address root causes of poverty.
But it was his pointed and impassioned call for social and economic justice for all that fired up the crowd.
Racism as a root of poverty
"We have to understand that well-funded studies and community meetings and academic insights are all meaningless if we have families that don't have a stable home or a decent meal on the table," he said. "We need to wake up and realize we can't build, yes, we can't build a closer community if so many of its members are always, always left behind." The audience began to applaud.
"Last year I talked of the profound role racism plays in the realm of poverty, and I have to tell you, I took some heat from those who just don't think United Way should even mention the word racism, who don't think that it's our place. But I won't back down," he said, and there was applause again. 
"These are not broken people who need to be fixed. Our systems are broken because baked into them is systemic racism," Napoli said to applause. "There is an accelerating economic gap, not only in Ohio, but across this country widening that split that already separates the haves from the have-nots. And what hard data has told us time and again is that our community simply can't be healthy on any level when there's economic inequality. It is my unwavering conviction that the space the United Way of Greater Cleveland occupies when it comes to fighting poverty must, let me underline must, include confronting racism."
"It must give voice to the mothers, to the fathers, to the children, the grandparents, the families, and the forgotten who have been swallowed by the despair of poverty," Napoli continued, to more applause. "For United Way and for myself, personally and professionally as the president and CEO, it is disingenuous to say that we are fighting poverty without addressing the very issue that is one of its primary root causes. All of our efforts and innovations will be for naught if we turn our backs on this epidemic of racial inequality that has been festering for so many years, an epidemic so devastating that some cities have already declared it a public health crisis."
Video: Watch Augie Napoli's keynote address
Collaboration as key
Napoli invited Helen Forbes Fields at United Way and Cecil J. Lipscomb at the United Black Fund, co-chairs of the Equity Leadership Council, to join him onstage as he continued speaking. He then invited all 21 members of the council to the stage.
"They have been teammates and leaders in this courageous journey," he said. "And we've already been able to make, with the council's help, develop a suite of racial equity resources that United Way's making available to all of you through our website. … In essence, the council's charge is to figure out how we as a unified force can confront racism. We're not only allies, we're co-conspirators of sorts, a collective bound by trust and purpose. As one of the council members pointed out, change happens at the speed of trust."
Napoli called for change.
"I know that we can change the trajectory of families who have been hounded by the effects of poverty for generations," he said. "The stakes are too high for all of us, morally, socially and economically, to turn our backs."
Housing stability as a factor
During the panel discussion, each panelist spoke of United Way as a catalyst in helping agencies collaborate on issues.
Social factors, including housing, outweigh the quality of health care and genetics in determining a person's health, said Dr. Toby Cosgrove, executive adviser and former CEO and president of Cleveland Clinic.
"People who do not have stable housing are six times more common to get sick," said Cosgrove, who was the 2019 United Way campaign chair and was named inaugural chair of the Impact Institute. "They're four times more commonly seen in the hospital and they're three more times to die early. The really sad part is that in Cleveland we have almost 3,000 children who are homeless in our school system."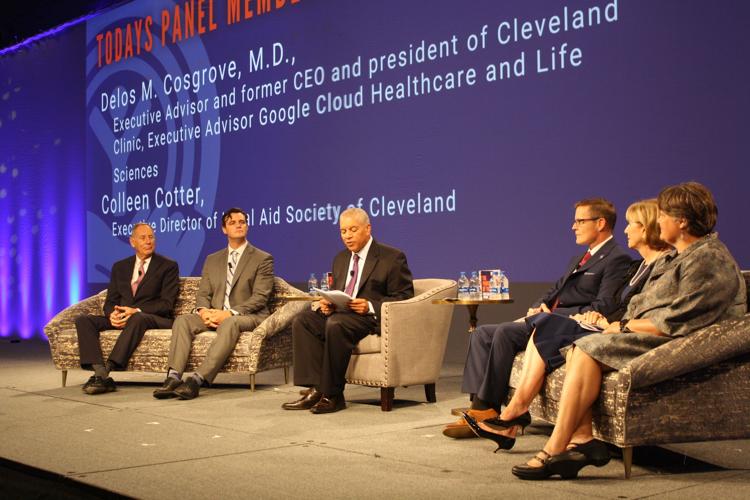 Barbara Siemer spoke of her work as chairman of the Siemer Institute.
"If kids move three times in one year, they will lose that year," she said. "If they move three times in elementary school, they're gonna lose a year. And if they move in high school and unwillingly, unplanned move, their chances of graduation are 50%."
She said relocation causes children's ability to learn new information or access learned material to become compromised.
"Now we're infecting kids' brains physiologically, as well as psychologically, as well as educationally," she said.
Siemer spoke of a woman who had been working a minimum wage job and had three children, who was offered a raise which took her "over what we call the benefits cliff," losing all benefits.
"That's a really serious problem for people we work with," she said. "The benefits cliff is a very serious concern for us."
Kevin Nowak, executive director of CHN Housing Partners, spoke about "the power of the permanent address."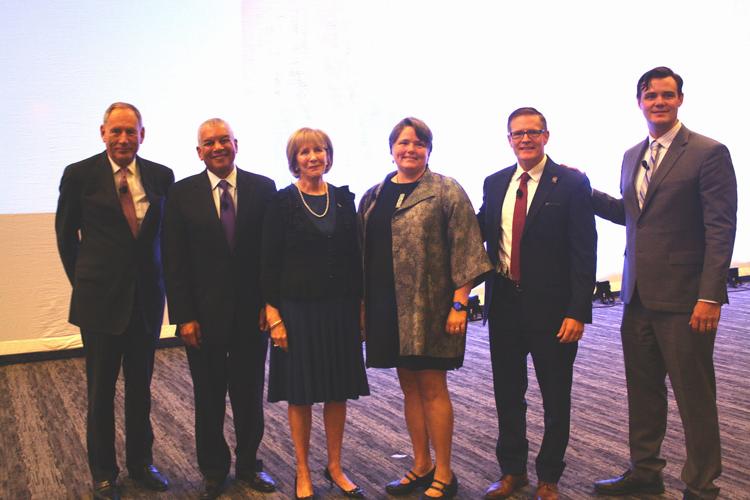 "But the availability of home ownership has declined since the great recession," he said. "And the availability of capital for particularly low-income families and families of color has decreased significantly and has not rebounded. And until we're able to solve that, we won't be able to fully solve our housing instability for our families of color."
He also spoke about the need for economic mobility and about working collaboratively with other agencies to help families in need.
Colleen Cotter, executive director of Legal Aid Society of Cleveland, said annually there are 9,000 evictions in Cleveland and 20,000 in Cuyahoga County. She said children miss 30% of the school year when their families are evicted.
"And tenants in Cleveland, over 70% are African-American, over 70% are women and over 60% have children," she said, adding that just 2 percent of Cleveland tenants facing eviction have a lawyer. 
"They don't know the issue of no water or the fact that they tried to pay rent and the landlord didn't accept it," she said. "And the court doesn't have a mechanism to dig into that. So they're evicted."
Cotter said providing legal representation to tenants facing eviction will level the playing field for those facing eviction. 
In 2017, New York City City Council effectively led the way with this strategy, preventing evictions and cutting the number of eviction filings.
Kevin Kelley, president of Cleveland City Council, said he expects the council to pass legislation on Sept. 30.
"We're going to provide attorneys for people that are living in poverty and have children in the home," Kelley said. "This is one of those things that is overdue. … This is not a cheap solution. This is not an easy solution but it's the right solution. It's a necessary solution." 
2019 Annual Community Luncheon Opening from United Way on Vimeo.
Where Judaism fits in
After the event, Napoli told the Cleveland Jewish News that he was inspired partly by what he observes.
"Just what I see every day," he said. "The effects of this and how disconnected the majority community is from this life, the presumption, the bias the myth around poverty. You know it's just very, very troubling."
But he also said he was tempted to quote the central Jewish prayer, the Sh'ma, during his formal remarks.
"But you know I wanted to say: When you lay down at night, when you rise up in the morning, nail it on your gateposts and your doorposts and your gateposts, because that's what we should be doing, but I didn't want to trivialize the prayer and all of that, but that was in my heart."