Warning: This article contains graphic and vulgar content and may be offensive. Reader discretion is advised.
University Heights City Council censured Mayor Michael Dylan Brennan May 3 in a 6-1 vote for "use of offensively coarse and unwarranted and inappropriate language and for the conduct unbecoming of the office of mayor."
The Cleveland Jewish News first reported the possibility of a censure April 21.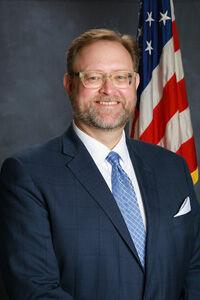 Before council discussed the resolution, Brennan read a formal apology to residents of University Heights at the meeting that he released to media April 26. He said it would be inappropriate for him to preside over that part of the meeting and stepped aside to allow council president Michele Weiss to chair that portion of the meeting. There were 70 screens on the call for the virtual meeting.
The resolution to censure, or publicly reprimand the mayor came from Weiss.
"It truly pains me to read this resolution," Weiss said in her introductory remarks. "I will not stand by when my constituents and colleagues are not respected."
Elected officials, she said, are servant leaders, should be examples to the community and held to the highest possible standard.
"Additionally, servant leaders need humility," she said.
Weiss listed three instances when the mayor used inflammatory language: during a Dec. 7, 2020, executive session; during a Dec. 21, 2020, city council meeting, and during an April 14 telephone call with a resident.
She said Brennan displayed "a pattern of behavior in which he is apparently unable to control his temper" and that he was "highly disrespectful of members of council and residents."
In addition, she said, his failure to immediately apologize revealed "poor judgment and a troubling lack of self-awareness."
Resident Jeffrey Porter complained to council at its April 19 meeting about the language the mayor used toward him and his wife, Vivienne Smith Porter, after the Porters complained about their neighbor's use of his home as a Shabbos shul.
Porter said the mayor called him a "jerk," "an asshole" and "a psychopath" in the conversation he said he recorded and transcribed.
At the May 3 meeting, Weiss did not repeat the language Brennan used in each incident.
Brennan has not apologized to the Porters, but made the formal apology after the possibility of a censure was announced, councilman Justin Gould said. Gould said he spoke with the Porters about the conversation and listened to the audio tape.
"As council members, we field angry and frustrated calls from citizens," Gould said. "Sometimes, we share those feelings with each other as colleagues, but we don't get to swear at or insult in response. The mayor has acknowledged that he would not accept that response from his employees, nor will we accept that response from him. And because of that escalation, because of that continuation, I feel this resolution is appropriate and I vote in favor of it."
Councilman John Rach said he believed the mayor's apology was "heartfelt," and that made it more difficult for him to do his job.
Councilperson Saundra Berry said she believed Brennan's heart is in the right place "most of the time."
She said, "I do think that we cannot, especially for our children, say that it's OK to use that profane language. We have to set an example for the next generation."
Councilman Philip Ertel, who voted against the censure, said, "Simply, I think we would be better served if we focused on the more substantive issues at hand."
Council members Barbara Blankfeld, Susan D. Pardee, Berry, Gould, Rach and Weiss voted in favor of the censure.
In Brennan's May 4 mayor's report, he included his apology and entire statement from the May 3 meeting, which ended with the words, "I have no further comment on this issue."