Ari Jaffe and Marlyn Bloch Jaffe of University Heights attended the final minutes of the 'No Hate. No Fear.' rally Jan. 5 in the courtyard at The Jewish Agency in Jerusalem.
The couple were in Israel to attend their son's wedding on Jan. 2 in Beth Ness Tziona.
"We were just fortunate that we happened to be in Israel at the time," said Ari Jaffe, who attends Green Road Synagogue in Beachwood. "That's what makes us the nation of Israel. that's what makes us Am Yisrael."
He said American college students made up the majority of attendees at the Jerusalem rally, but there were Israelis there as well, and the speeches were in Hebrew.
"It was an amazing thing to see worldwide support of the Jewish community, not just in New York, not just in Cleveland, not just in Jerusalem."
He said he has noticed divisions between Israeli and American Jews, and "This was a moment of unity. This was a moment of support."
Ben Bresky, who lives in Jerusalem and works as a freelance journalist, grew up in University Heights attending Park Synagogue in Cleveland Heights and Pepper Pike.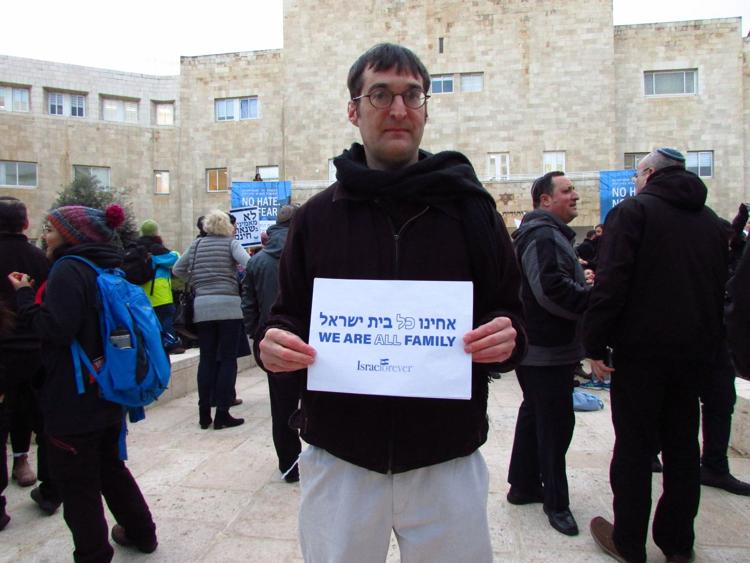 "I felt it was important to attend because friends from Cleveland were going to attend the rally in New York and I wanted to show solidarity with them," he wrote the Cleveland Jewish News in an email.
"I was moved by the display of support from both native-born Israels and Americans living in Israel," he wrote. "The rally was held outside The Jewish Agency building which was the site of many historic events such as the celebrations in 1947 when the U.N. voted to accept the British leaving Israel in favor of a Jewish state."
Bresky's mother, Toby Bresky, grew up in Pittsburgh attending Tree of Life Congregation as a child, and Bresky noted the support Israelis gave to Jews in Pittsburgh after the Oct. 27, 2018, shootings.
Bresky said he was moved by the singing of "Hatikvah," the final song of the rally, and at seeing Israeli teenagers singing and dancing.
The Jewish Agency for Israel, the World Zionist Organization and the Anti-Defamation League organized the event.
---
Publisher's note: Ari Jaffe is a member of the Cleveland Jewish Publication Company Board of Directors.