The city of University Heights has launched the first of three, 30-second videos promoting the COVID-19 vaccine.
Featuring residents and city workers, the public service announcement includes black-and-white images of people's masked faces and showing their bandaged arms to a song, "Everybody Deserves to be Free," written and sung by the Resistance Revival Chorus, based in New York City.
Modeled after a national public service announcement produced by the U.S. Department of Health and Human Services, which used the same soundtrack, the idea to do a local spot came from resident Ari Jaffe, who showed the national spot to Mayor Michael Dylan Brennan. Brennan asked Mike Cook, communications and civic engagement coordinator, if he thought it would work to localize the national video.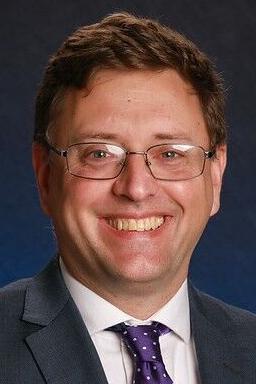 Cook, who has produced several public service announcements for University Heights, including one on social distancing during COVID-19, put out casting calls through the University Heights Instagram account and an email.
The PSA opens with resident Kat Sigel showing off her post-shot bandage. Also appearing in the PSA are University Heights Symphonic Band conductor Matthew Salvaggio, Joanna Homann, M-E Fenn of Odd Dog Coffee, Ketti Finneran, Cleveland Heights-University Heights school board member Jodi Sourini, fire chief Robert Perko and members of the fire department, Ron Collier, Giovanna Ventre, Libby Stineman from Milk & Cookies, clerk of council Kelly Thomas and Gina Ventre.
Cook said it took about a week of intermittent shooting in front of a bulletin board in city hall. He edited the video on April 10 and it went up on the city's social media channels April 12.
"You look closely you see like the little holes in the bulletin board," Cook said. "We put it back when we were done shooting."
The other two versions will be similar, highlighting particular members of the same cast, Cook said.
"I guess basically who we're trying to get is you know people who haven't quite gotten around to getting the shots yet," Cook said. "This is more of a soft sell, a positive thing. …
This is something we can all do to help each other out, get our lives back and try to resume … how things used to be, a year and a half ago before this whole thing started."
Cook said feedback has been positive.
"People seem really excited," he said. "Hopefully more people will see it and share it and say, 'Yeah, I know that person who got the shot, you know what, I'm going to get the shot, too.'"
---
Publisher's note: Ari Jaffe is a member of the Cleveland Jewish Publication Company Board of Directors.