U.S. Attorney Justin Herdman put white supremacists on notice at a press conference in which he announced the unsealing of a federal charge in the case of James P. Reardon, a New Middletown avowed white nationalist who is accused of posting a video containing an implied threat to the Youngstown Jewish Community Center.
"Federal rules give us a few weeks before seeking an indictment in the grand jury and we will continue to use that time to further our investigation of Mr. Reardon's conduct and to determine if others were involved," Herdman said in prepared remarks at an Aug. 29 press conference at the U.S. Attorney's Office in Cleveland. "This case is just one of several over the past few weeks that are the product of our friends and neighbors seeing something and then saying something."
Reardon, 20, is being held on a federal charge of transmitting communications via interstate commerce, announced at the press conference. He will be arraigned on the federal charge Sept. 6 in Youngstown. He allegedly made several videos espousing anti-Semitic and racist views. He was already being held in Mahoning County jail in Youngstown on state charges of telecommunications harassment and aggravated menacing. Reardon entered a plea of not guilty on the state charges Aug. 19 at Struthers Municipal Court.
Herdman's remarks
Herdman discussed hate stemming from white supremacy, generally, which links many cases like the one in Youngstown.
"Let me speak generally to those who are advocates for white supremacy, or white nationalism," Herdman said. "The Constitution may give you a voice but it doesn't guarantee you a receptive audience. ...
"What you don't have ... is the right to take out your frustration at failure in the political arena by resorting to violence. You don't have any right to threaten the lives and well-being of our neighbors. They have an absolute God-given and inalienable right to live peacefully, to worship as they please, to be free from fear that they might become a target simply because of the color of their skin, the country of their birth or the form of their prayer.
"Threatening to kill Jewish people, gunning down innocent Latinos on a weekend shopping trip, planning and plotting to perpetrate murders in the name of a nonsense racial theory, sitting to pray with God-fearing people who you execute moments later – those actions don't make you soldiers, they make you criminals," he said. "Law enforcement doesn't go to war with cowards who break the law, we arrest them and send them to prison.
"Our skin is every color you can imagine, our families come from a hundred different countries and a hundred different faiths," he said, referring to law enforcement officials. "What makes us different doesn't split us apart, though. Those differences are insignificant compared to what is the same about us – we are united in our commitment to each other, to our families and to our communities. We are the living embodiment of everything you say is impossible. ... And arm in arm with the public, when your hatred leads you to break the law, we will do everything we can to be there to stop you."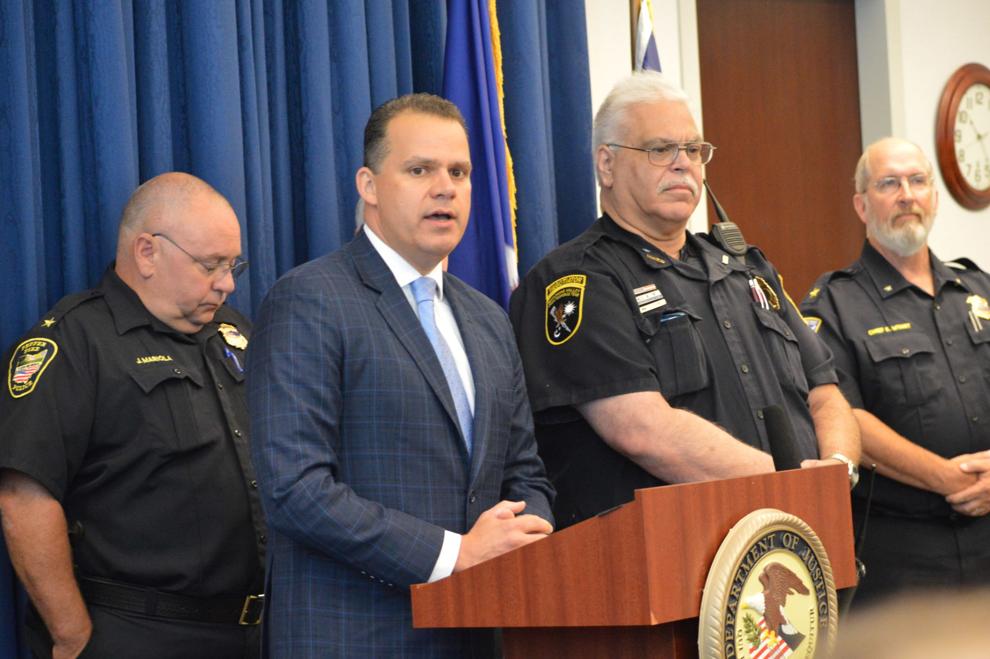 The video
A video that implied a threat to the Youngstown Jewish Community Center garnered about 70 likes on Instagram when it was initially posted July 11 by Reardon, who was portrayed as a shooter in it.
Once it was released to media, the number of likes increased to 4,000, said New Middletown Police Chief Vincent D'Egidio during the Aug. 29 press conference.
"So, people were looking at it … which is sad," the chief said. "People, just natural curiosity, probably want to see it, especially when it's coming from a small community. A lot of them probably are friends of his or former acquaintances."
New Middletown police showed FBI Special Agent Timothy Donnelly an "Instagram video posted by Reardon in which he discharges two rounds of ammunition into a cover of a video while making a remark about 'Jewish media,'" Donnelly wrote in an affidavit accompanying the federal criminal complaint.
"He also stated that he makes videos with friends as satire (and) often uses racial and violent depictions for humor," Donnelly wrote. "Reardon said that the MP-40 sub-machine gun and AR-15 located within the subject residence were his. Reardon stated that he attended the rally in Charlottesville, Va., in August, 2017. While there, he met the murderer of Heather Heyer, James Fields. After the rally, Reardon said he was turned off by the positions espoused at the rally, however he identified the neo-Nazi shield in his basement as being from the rally."
Donnelly's affidavit contains a detailed description of the video that first caught New Middletown police's attention on Aug. 16, when a former friend of Reardon showed it to an officer on an unrelated call.
The video Reardon posted to Instagram on July 11 showed him "holding an assault rifle," Donnelly wrote. "Reardon stated at the beginning of the video 'F-- a life.' He then held the rifle in multiple firing positions with audio gunshots and sound effects of sirens and people screaming added into the background. The video also had a caption that stated, '... Police identified the Youngstown Jewish Family Community Center shooter as local white nationalist Seamus O'Reardon.' The video is shown to be 'tagged' at the Jewish Community of Youngstown."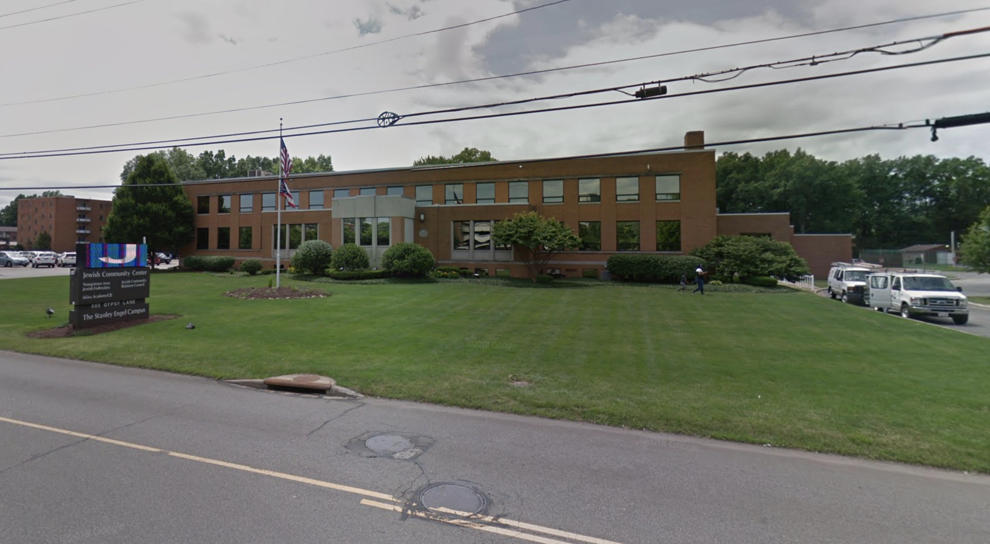 The Youngstown JCC stands on a campus on Gypsy Lane, which also includes the Youngstown Area Jewish Federation; Levy Gardens, an assisted-living facility; Heritage Manor, a nursing home; Akiva Academy, a Jewish day school; and Jewish Family Services.
"One person killed during hate crimes or during anything like that is just one too many," D'Egidio said at the press conference, urging the public to cooperate with law enforcement.
Reardon's arrest
D'Egidio said Reardon's mother became upset upon seeing the video.
"When I talked to her, (the) mom, she said years ago she had some concerns, but she thought he was out of that and that he'd straightened up," D'Egidio said at the conference. "He was working at a pizza shop in the Holden area or the Boardman area. And she thought that he'd straightened up, got rid of all that stuff, but once she was shown that one video that prompted everything, she just broke down. It was sad."
After word spread of Reardon's arrest, more people came forward to police about concerns they had regarding him, D'Egidio said.
"During high school, he scared them," he said. "He had some ideologies that weren't within society norms."
D'Egidio said Reardon made videos of himself burning animals when he was younger, although his only past arrests were as a juvenile for vandalism among friends.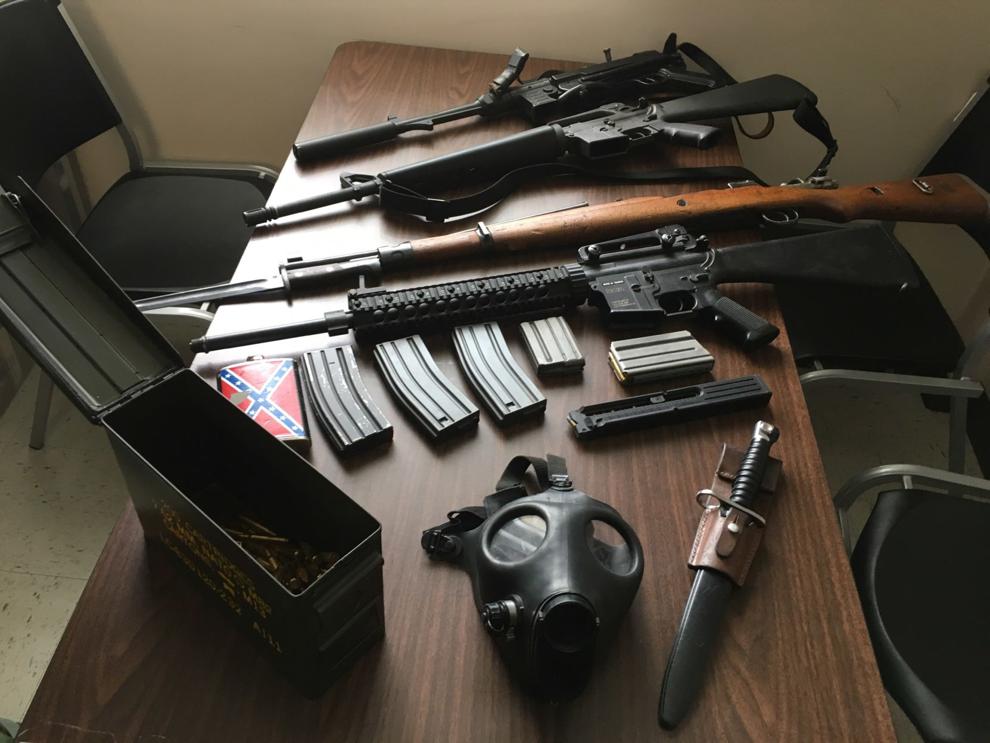 "At the night of the arrest, he was very nonchalant, very complacent and just said, 'Hey, chief. Sorry,'" D'Egidio said.
Herdman said Reardon's arrest triggered the federal investigation.
"And then we have to analyze the facts and look at our federal statutes and determine whether there has been violations of federal law," Herdman said. "It can happen very rapidly. It could take a little time."
Herdman said there could be additional charges against Reardon.
"This is not the final version of what the charge sheet for Mr. Reardon will look like," the U.S. Attorney said. "Suffice to say, this kind of case definitely focuses our attention. We're always trying to figure out if there's a broader network at play."
Response to the charge
The Youngstown Area Jewish Federation issued a statement Aug. 29: "We are grateful law enforcement took the threat posed by James Reardon seriously, and have confidence in the legal process. We are thankful this is a case where everything went right. The outpouring of support from the community, locally, statewide and nationally, is greatly appreciated. Though we know of no other threats to the Jewish community or our agencies, we continue to be vigilant about security at the Federation, its agencies and the area synagogues. We are safe, secure and open."
D'Egidio said the Youngstown JCC reached out to him afterward.
"They were very thankful for local law enforcement, for the FBI, the quick and rapid response in preventing the tragedy," he said. "The phone calls we got in relation to the Tree of Life synagogue Pittsburgh shootings a year or so ago, at that point, we didn't think about it. We were just thinking we've got to get this guy off the road. We've got to get him in custody and recover whatever weapons we can."
If he is convicted, Reardon's sentence will be determined by the court.
The case was investigated by the FBI, the Mahoning Valley Violent Crimes Task Force and the New Middletown Police Department. It is being prosecuted by Assistant U.S. Attorneys David Toepfer and Yasmine Makridis.
FBI Special Agent in Charge Eric B. Smith also spoke at the Cleveland news conference.
"In today's environment, shootings in public places, churches and schools have occurred too often," Smith said in prepared remarks. "Law enforcement must react swiftly to threats of violence. This defendant's video demonstrated that he had access to weapons and he posed a threat to a Jewish community center. Law enforcement cannot wait to see if a shooting is going to occur, law enforcement must act quickly within the confines of the law to disrupt any potential violent act."