Vanessa Bayer donned slippers, polka-dot pajamas and her signature smile to read aloud her first children's book, "How Do You Care for a Very Sick Bear?"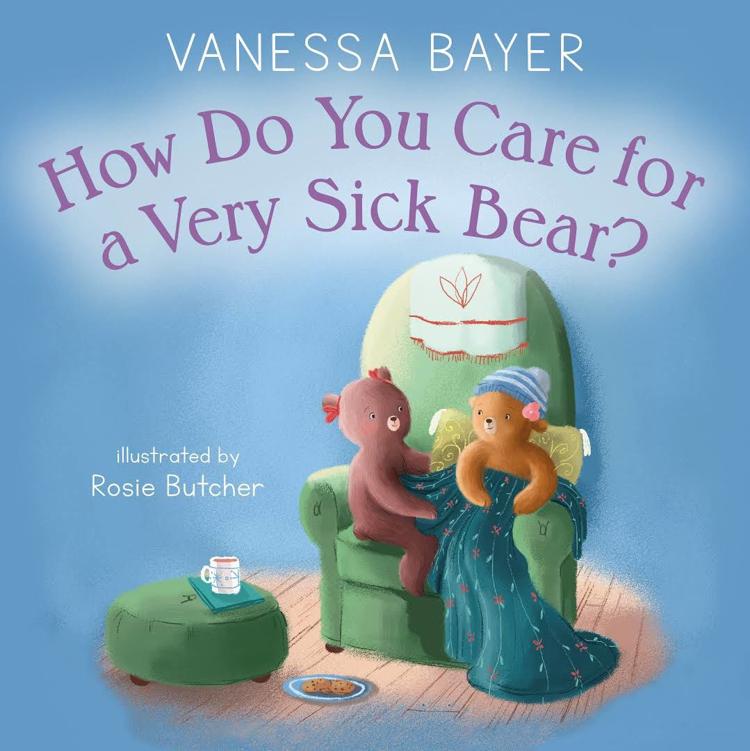 About 350 people nearly filled the house at the Parma-Snow  branch of the Cuyahoga County Public Library on June 5 to see Bayer on her second stop in a mini-book tour. First stop was New York City. Los Angeles, where she lives, is her final stop.
She took questions from the audience and then signed books for fans after the event.
The "Saturday Night Live" alumna, film and television actress penned the book to help children – and adults – respond to friends who are facing illness. Bayer was diagnosed with leukemia at age 15 and said her friends rallied around her during her 2½-year battle.
"It really made such a difference in my whole experience," she said. "I've noticed as I've gotten older, a lot of times kids and adults don't really know what to do when they have a friend who's sick, or who's going through a difficult time, and a lot of times their reaction will be, I'll leave them alone. I'll let them have their space. But I think that's just because it's scary and you don't know what to do.
"So in this book, I'm trying to teach, when you have a friend who's going through a hard time, reach out, be there for them," she said. "And if they're not up for playing or hanging out or whatever it is, let them tell you that. You don't need to assume that about them. Because they're still your friend, who loves to hang out with you and laugh and talk and dream with you."
The audience included about 50 people who knew Bayer since her childhood when she was growing up in Moreland Hills and attending Orange High School in Pepper Pike, including her teachers, parents of friends and family, as well as children battling cancer, who took reserved seats in the front row.
Bayer, 37, said she has always loved books, especially children's books, and took part in the Book It program at the Orange library branch of the Cuyahoga County Public Library in Pepper Pike as a child, remembering the pizza parties.
"What's better than a pizza party?" she said.
She was delighted to see her former French teacher, Peggy Blair, in the audience, who said Bayer was her favorite student.
"I had Vanessa as a French student at Orange," Blair said. "She was my favorite – awesome, awesome."
"Do you know that I was a French major in college?" Bayer asked.
Bayer said she was a French and communications double major, studying in Paris for a semester.
Blair asked about how Bayer's sense of humor helped during her illness.
"I think that when I was sick, my parents were always joking about it. We were always having fun," she said. "I know cancer doesn't seem like a super funny topic, but we always found things to laugh about in the hospital. … I also think that laughing with my friends kind of put them at ease in a way. And it just sort of made the whole experience not seem so heavy all the time. … And I think when I first started going into comedy in college, I didn't really realize it was because of my experience with leukemia and how helpful comedy was during that time, but I think in retrospect, the reason that I became a comedian was because of how powerful laughter and laughing with my friends and family was during that time. It really had a huge impact on me."
Asked by another Orange alumna to name her favorite teachers, Bayer declined, saying she loved them all, but did say she was particularly fond of her English teachers.
"I really loved my teachers," she said. "It might not have made me super cool."
Bayer said she wanted the illustrations to be old-fashioned to offer warmth. 
She also said she wrote the book to rhyme all the way through and was advised not to have the entire book rhyme.
Her father, Todd Bayer, said, he was proud of his daughter.
"She always used to kid around that she'd be famous," he said. "But that was like a joke between us." 
Her kindergarten teacher, Sally Roman, said Bayer was always "very smiley. I remember this huge smile all the time."
In the lobby, there were representatives from the Ronald McDonald House and from Never, Ever Give Up – CLE, collecting stories of resilience, along with a table with crayons and get-well cards, which children – and some adults – colored for children at Greater Cleveland hospitals.