The Hebrew Academy of Cleveland's 77th annual scholarship tribute dinner was transformed into a virtual event, "2020 Envision It. Live!" June 1, with a program that reflected the institution's legacy and raised $2.45 million.
The in-person event was scheduled for March, but was postponed due to the COVID-19 pandemic.
Rabbi Simcha Dessler, the school's educational director, lauded the efforts of the staff who worked tirelessly during the pandemic.
"Never have so many worked so hard and accomplished so much," he said in the virtual video event.
J. David Heller, board chair of the Jewish Federation of Cleveland in Beachwood, said in the video, "The Academy is one of the nation's premier day schools."
He lauded the academy's innovations during the pandemic, such as distributing almost 900 Google Chromebooks and 1,000 lunches daily, and hosting an erev Shavuos drive-by and a STEM fair.
Two fireside chats with author and lecturer Rabbi Paysach Krohn featured interviews with principals, parents and students, each of whom underscored and provided examples of the school's noteworthy compassion and connectivity during the pandemic. Musical entertainment with musical artist Boruch Levine took on a spirit of its own when he sang, "Thank you Hashem for giving us such a wonderful school." Simultaneously from their homes, students held signs of gratitude for teachers. The song was followed by another song, "Birchas Habonim," blessing of children, honoring parents and grandparents.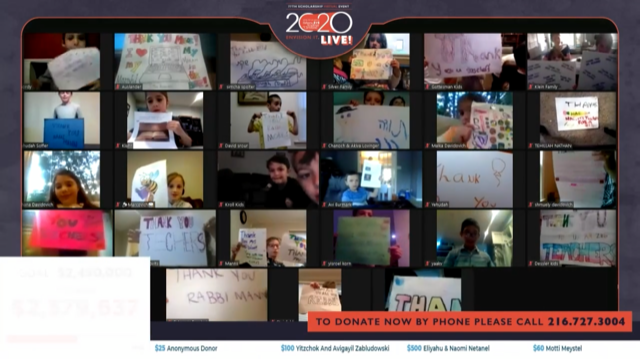 Video presentations and acceptances honored the evening's honorees: Danny and Aliza Gottesman; Alumnus Award recipient Maury Litwack; and Rabbi and Mrs. Hillel Drazin, recipients of the Mendy Klein Community Service Award. The event concluded with a video entitled "A Musical Tribute To Our Academy."
The money raised supports the school's long-standing policy not to turn away a child due to financial challenges.
The program included a message from Rabbi Elya Brudny of the school's education committee.
Dr. Louis Malcmacher, an alumnus and president of the board of trustees, was master of ceremonies.