James Pasch, Anti-Defamation League regional director in Cleveland, said the ADL is investigating the allegations that people at a May 30 protest in downtown Cleveland had a different agenda from those interested in pursuing social justice and equity.
"Our Center on Extremism is investigating reports that extremists, including white supremacists, may be trying to join protests and stoke anger for their own deeply racist and bigoted goals," Pasch wrote the CJN in a text.
Pasch's statement follows statements from Cleveland Mayor Frank G. Jackson and Police Chief Calvin Williams that said some who attended were from out of state and there to cause disruption.
"There's a distinct difference in this crowd as compared to other protests we have had," Jackson said at a May 31 press conference. "It had a little twist to that we had to adjust to."
He said protesters recognized there were others in the crowd of about 2,000 people with a different agenda.
"They recognized that there was this other group that was not in line with what their real intent was as legitimate protesters – that this other (group's) whole intent was to be violent, disruptive and to cause civil unrest and destruction of private property," Jackson said.
Williams said he had received intelligence from other cities of the same phenomenon.
At a June 2 press conference, Jackson said there has been speculation about the motives of instigators.
"In this whole thing, there's a lot of conversation going on, a lot of conspiracy theories," he said. "Some of the conspiracy theories are based in politics or ideology."
Williams has consistently said police were trying to verify addresses of those arrested.
"People can have a Cleveland area address but that doesn't necessarily mean they live there," Williams said June 2. "On the extremist side of it, that's something that we're going to be taking a look into. Right now, we're making sure we keep the city safe."
The FBI is also investigating.
"To help us identify actors who are actively instigating violence in the wake of Mr. George Floyd's death, the FBI is accepting tips and digital media depicting violent encounters surrounding the civil unrest that is happening throughout the country," the FBI stated in a June 1 press release.
Cherie Dimmerling, who lives downtown and attended the May 30 protest from 2:30 to about 4:30 p.m., said she was on the lookout for undercover police when she noticed a group of white men dressed identically in black with backpacks, gloves and masks who appeared to be well organized.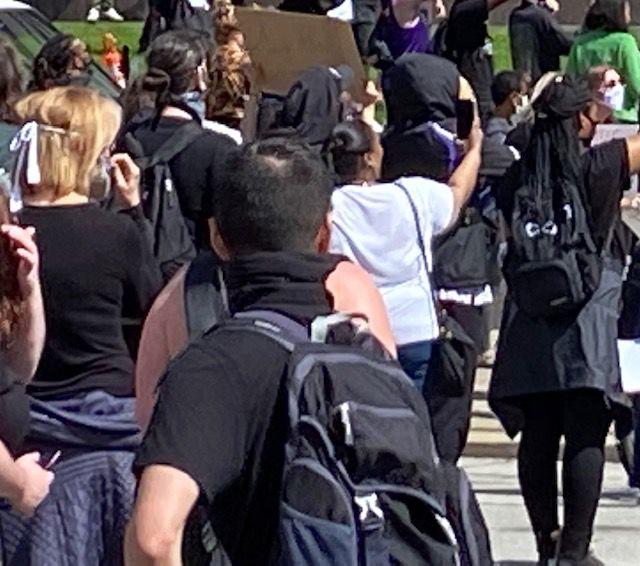 Dimmerling also said it was interesting to her that most of the damage took place on sites away from the main protest areas – at The Free Stamp and on Public Square.
"It was really outside of where most people were," she said.
"They were all planning things," she said. "It just seemed to us that there were provocateurs there."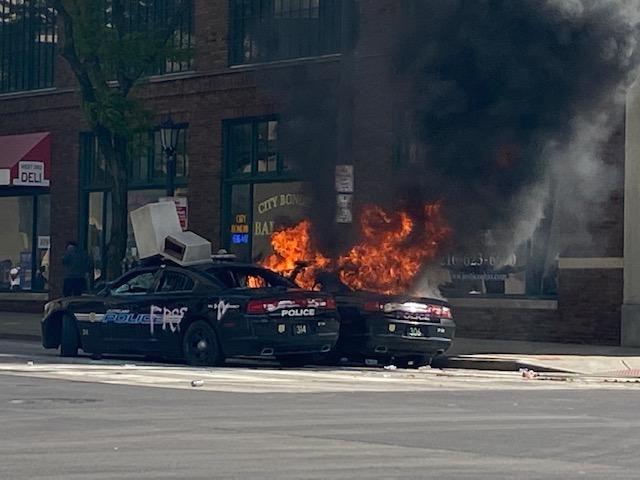 She said after the first police car was set on fire, she heard one of the men say, "Yes, yes, OK, I see. I'll come down."
Michael Masters, national director and CEO of Secure Community Network, the security arm of the Jewish Federations of North America, issued a statement June 2 regarding instigators.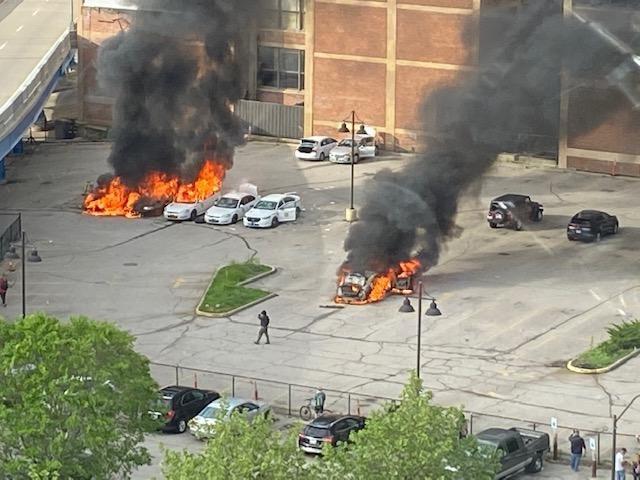 "In a number of instances, SCN is aware of the possibility of individuals – some of whom may identify with various organizations, movements and causes – using otherwise focused protests and demonstrations related to the murder of George Floyd as an opportunity to exacerbate underlying tensions and incite civil disturbance and violence, particularly that directed against private businesses for the purpose of rioting/looting activities, as well as against law enforcement," he stated. "As of this time, we are not aware of any direct, credible threat related to the Jewish community."