As five successful women discussed their roles at work and as mothers, it became clear to Lindsey Smith that the word "balance" doesn't really apply.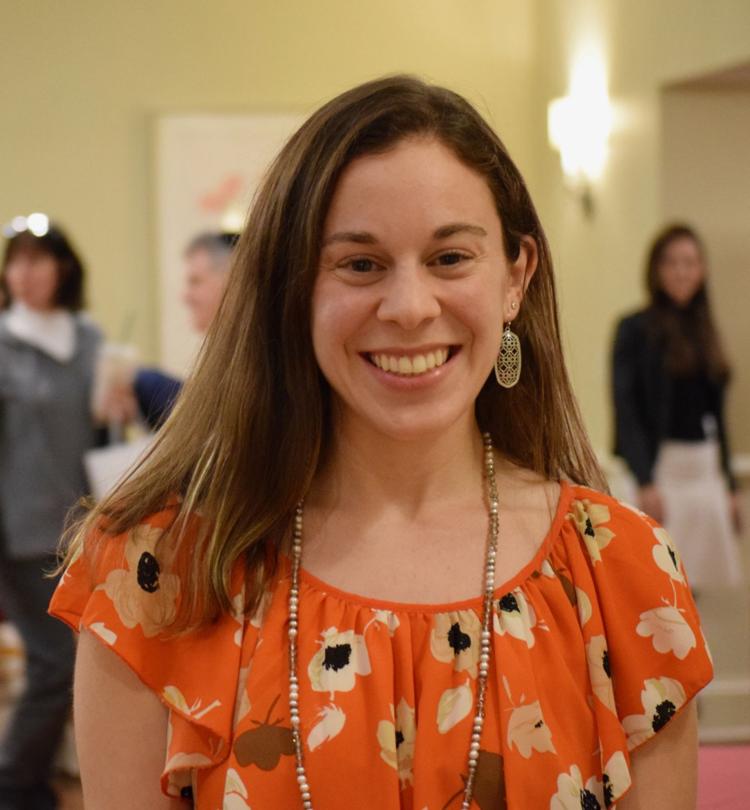 Smith was one of close to 100 people who attended the Cleveland Jewish News and Gries Financial Partners' Women in Leadership event Oct. 17 at Glidden House in Cleveland's University Circle.
"To hear them be so honest and say, 'Well it doesn't exist, some days you work more, and some days you feel better about your life and your family,' it just makes me feel better," said Smith, 29, an actuary, who is engaged to be married. "It is sad that it can't actually be a thing. ... But that's life. I don't have a family yet. I feel like I'm ahead of the game hearing such accomplished women talk about their experiences."
Lauren Rich Fine, partner at Gries Financial Partners, moderated the panel.
She spoke of her decision to move from New York City, where she had a job on Wall Street, back to Cleveland, after her children were born.
"And it was one of the best decisions we ever made because my company let me work from home and so my ability to manage both my work and kids, no one saw what I was doing," she said. "And it was a meritocracy, and as long as my work got done when it needed to get done, it worked out very well. I don't sleep very much. That has always been my secret weapon because I've never needed sleep."
She spoke of multitasking in the roles.
"I can't tell you how many conference calls I did from the sidelines of a soccer game and praying I had the button on mute when we started screaming," she said.
Susan Borison, a panelist and co-owner and editor of Your Teen Media in Beachwood, also works from home. For her, that presented the additional challenge of blurred boundaries.
"If you ask my kids, they would say there was no challenge going on because all I did was work," she said. "We're a business out of our homes. We don't have an office so you can work all the time. … So setting those boundaries (was) really, really difficult."
As her five children have grown up, Borison said they have occasionally affirmed her decision.
"Over the years there have been moments of them telling me they're proud of me, and so I don't necessarily think that the lack of balance of work and life was as essential," she said. "There was also a little bit of role modeling going on, seeing both parents really committed to something."
For panelist Kathy Blackman, owner of the Grog Shop and B Side Lounge in Cleveland Heights, career came chronologically before motherhood. Blackman opened the Grog Shop at the age of 23 and is the mother of two teenagers.
"I had to learn how to slow down and commit to somebody else and not make it all about work, work, work, work and try to, I don't know, slow down a little," she said, adding that she found being a mother simpler when her children were young. "This is nothing compared to being at the bar all day. It was nice and refreshing. And so I got to appreciate my kids and not be at work."
Abbie Pappas, a panelist and associate at Singerman, Mills, Desberg, Kauntz & Co., LPA in Beachwood, said she looks to other women for how to handle the multiple roles she has.
"I have no idea," Pappas said, adding that she is trying to train herself to sleep less. "I just look for other examples of working women who are kind of doing it all. To see other people who are doing it all, family, community involvement and being successful professionals, I think sometimes I'm just motivated to do it because I see other people doing it successfully so I know it can be done."
As Fine asked about the impact of community involvement, Shoshana Socher spoke of her involvement at The Friendship Circle in Pepper Pike, where she and husband Abe Socher were honored for their efforts in July. Socher is owner of The Socher Team in Pepper Pike.
"I was never involved in the community in order to grow my business, but it was a natural outgrowth of being involved in the community that the community supports your business – in the same way you would support somebody else's business that you were just involved with at a personal level."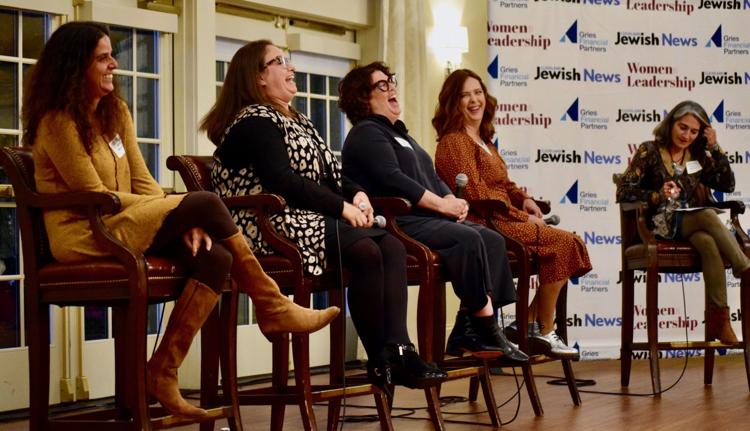 Fine spoke of how nonprofit board involvement can elevate one's profile and develop leadership skills.
"I think people show their best when they're passionate about something," she said. "I've encouraged a lot of younger people or mid-level career people to get involved in the community, but only in an organization that they care deeply about."
Among other topics the panelists spoke about were leadership, vulnerability, how they got over the fear of public speaking, their changing view of their career over time and of the crucial role other women have played in their own careers.
Borison also spoke of businessman, entrepreneur, author and philanthropist Morton L. Mandel, who the day before on died Oct. 16, and whom she heard speak. She said she has taken Mandel Leadership courses, which allowed her to know herself better.
"One of the things that I've seen professionally and personally, is that when – thanks to Mort Mandel and his foundation – when I know the strengths that I bring to the room, one of the things I can do is now wrap myself around with people who have complementary strengths, because it allows me to say I can't be all of those things," she said. "And so the gift I got from Mort was to see leadership as more of the power of who, who do I surround myself with."
Gries Financial Partners was the title sponsor of Women in Leadership. Singerman, Mills, Desberg, Kauntz & Co., LPA and The Socher Team were co-presenting sponsors of the event. Ganley Subaru of Bedford was the wine and networking sponsor, and Zack Bruell Events was the catering sponsor.