Construction at The Top of the Hill is ongoing with an elevator shaft reaching nine stories into the sky and steel framing rising above the north side of Cedar Hill in Cleveland Heights.
Brian Anderson, business development manager for the city of Cleveland Heights, gave the Cleveland Jewish News a tour of the perimeter of the construction site that will eventually house 261 residential units in two buildings, along with 11,000 square feet of retail space in an $83 million project.
The taller building will contain about 116 residential units, the second building about 145 units. There will be a mix of studios through three-bedroom units.
The building at the tip of the triangle formed by Euclid Heights Boulevard and Cedar Road will be nine stories, with fewer stories as the land rises on Cedar moving east, ending in five stories. A road will bisect the site leading both through to Euclid Heights Boulevard and to a parking garage that opened in April with 510 spaces.
The 4.25-acre parcel, which had previously been Doctors' Hospital, was acquired by the city, which later demolished the buildings.
"We've, over the years, had a number of attempts to have this property developed, and always intervening circumstances that … prevented it," Anderson said. "We were very excited obviously that we were finally able to push it over the finish line."
The city will continue to own the land with a 99-year lease for improvements held by developer Flaherty & Collins Properties of Indianapolis.
Apartment units will rent at market rate for new construction, with comparable pricing to similar units in University Circle and Shaker Heights, Deron Kintner, general counsel at Flaherty & Collins told the CJN July 15.
"I would say it's going well," Kintner said. "We're looking forward to … pre-leasing and getting opened with our first units over the next nine months and finishing up in about a year from now."
He said interest in the commercial space is picking up, now that the COVID-19 pandemic and restrictions around it have abated.
"We do not have any tenants lined up yet, but interest has increased as the world has gotten closer, back to normal."
Anderson said he expects residents to be a mix of young professionals tied to University Circle institutions, others who would like to live at Fairmount-Cedar, as well as empty nesters from Cleveland Heights who "don't necessarily want the century home anymore."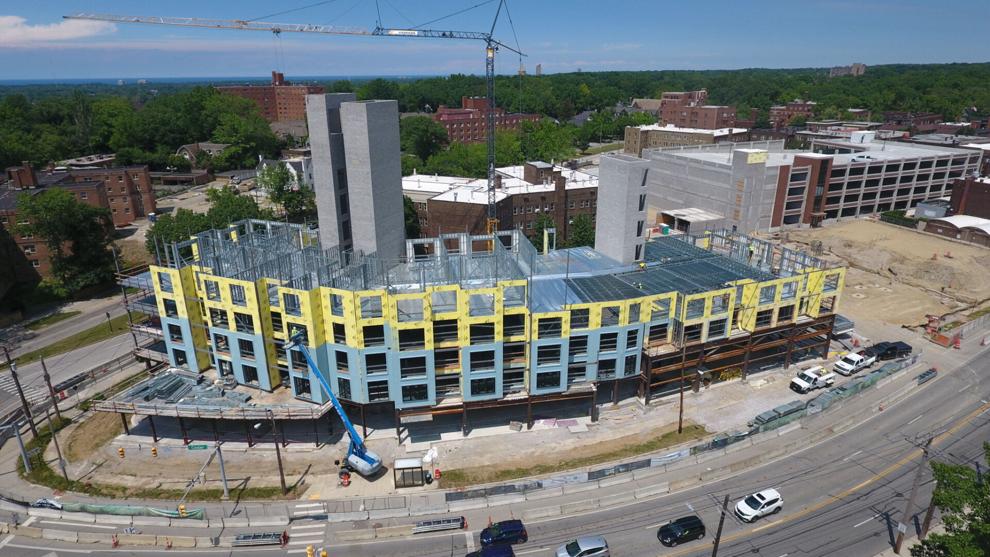 Flaherty & Collins was chosen by the city to develop the site in 2017 and began construction in June 2020 with the finish scheduled for July 2022.
Eppstein Uhen Architects of Milwaukee designed the buildings with views of downtown Cleveland's skyline in upper-story apartments.
"That's … certainly one of the selling points," Anderson said.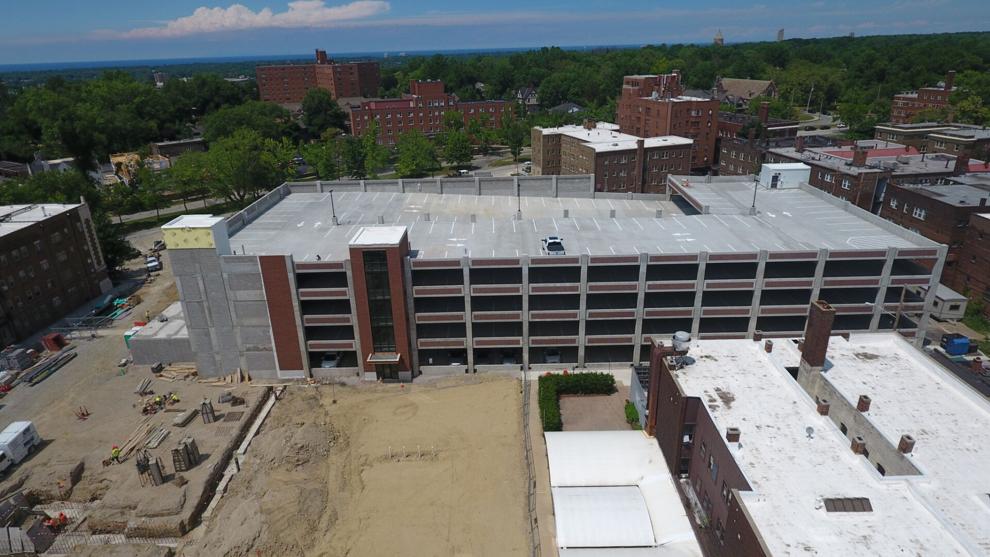 Cleveland Construction is the general contractor.
"It's a best-in-class property for the market and something the city can be proud of," Kintner said. "We also think it will be a tool to attract new residents to Cleveland Heights."