A Youngstown-area rabbi who was removed as the part-time spiritual director of a Boardman synagogue said he was fired due to comments he made regarding Israel. However, a representative of Ohev Tzedek-Shaarei Torah said the temple ended its contract with Rabbi Dario Hunter over concerns he would not have enough time for his responsibilities as he campaigns to be the Green Party's presidential nominee.
Hunter, who also works as the coordinator for Jewish life and intersectional programming at the College of Wooster and is a member of the Youngstown City School Board, received notice that the temple would end his contract on Feb. 27. In a Feb. 19 Cleveland.com story in which he announced his presidential bid, Hunter said the United States should stop providing any form of aid to Israel due to what he called its "horribly atrocious" treatment of Palestinians. 
Boardman resident Mark Huberman, an Ohev Tzedek-Shaarei Torah past president and board member, said the temple gave Hunter two weeks' notice it was ending his contract due to both his statements on Israel and his decision to run for president. 
"Obviously, our position is, when you're a national party candidate, not only is that going to require you to do a lot of traveling ... and might put in jeopardy your duties to the temple, even though they were only part time, but more importantly, you have to adopt a platform that could be in conflict with a lot of members of our congregation," Huberman said. "His position on the state of Israel was certainly one, but you know, it could be (a 90 percent tax on the wealthy), it could be 'Medicare for all,' it could be any number of things. 
"So, we had a meeting with him to explain that we thought that was problematic, and he said he wanted a few days to think about it. We gave him a few days to think about it and he wrote back a letter saying he had no intention of backing off of this campaign or anything like that. So, we exercised the rights we had under the contract with him that either party could give two weeks' notice if it wasn't working out, so that's what we did."
Hunter — who served as a part-time rabbi at the temple for several years and was a member of the congregation before being hired — said he found out he was let go via that email and said no cause for letting him go was given. 
He's been an active member in the Green Party for "some time" as chair of the Mahoning County Green Party. Though he anticipated there would be congregation members who disagreed with his views on Israel, he feels the way his termination was handled was "unfortunate and surprising." 
"There really wasn't much discussion about (termination) or whether or not there would be a request for resignation or whether there would be a time in which I'd serve and they'd work to find a replacement, it was just straight to termination," Hunter said. "I think that undercuts some of the statements being made on (the temple's) part, that it was just, 'Well, we thought his time would be occupied with this other thing.' It really doesn't mesh. It seems to be clear on the face of it that they were very angry at the fact that I had a different position on Israel than leadership in the temple happens to have."
Hunter said the temple's explanation "makes no logical sense."
"The job I had was part time. It was so part time (that) it didn't even provide benefits. And there was really no discussion, no period in which we sat down and plotted out a schedule," he said. "I made it very clear I intended to keep all of my commitments, and there really wasn't any contradiction of that in our discussion of that. 
"I think, really, it seems to be a convenient means of sidestepping what could be a very uncomfortable conversation about differences of opinion on Israel within the community — and I can understand why one would want to do that. I think it's really unfortunate, however, to put forward this disingenuous front on behalf of a faith community. I think it could have been dealt with a lot more respectfully and a lot more simply."
Huberman suggested Hunter's communication wasn't always clear. 
"I think (Hunter) told our co-presidents that he was thinking about forming an exploratory committee but he would let them know if he did anything more significant," he said. "He never did. Then we just read it in the paper that he announced (his candidacy)."
Accusations of hypocrisy, bigotry
Huberman said Hunter handled formal religious ceremonies — funerals, weddings and visiting members of the community for spiritual needs — while a layperson who served as co-spiritual director handled weekly services. Hunter said his time commitment to Ohev Tzedek-Shaarei Torah varied week to week, depending temple needs, though he mentioned there were several standing commitments, including Saturday morning services.
Ohev Tzedek-Shaarei Torah wasn't aware of Hunter's stance on Israel, said Huberman, adding the rabbi never expressed his views from the pulpit. He emphasized the Conservative shul enjoyed having Hunter as a rabbi, a point made both in the meeting with Hunter and the email, he said.
"He was a thoughtful guy, he gave us good service and it certainly wasn't our desire that he leave," said Huberman, adding the temple had no issues with Hunter's sexual preferences or his background. Hunter, whom Tablet magazine said is the first Muslim-born person to be ordained a rabbi, is the son of an Iranian Muslim father and African-American mother and is openly gay.
"We knew he was gay and that certainly was no bar to him being our rabbi," Huberman said. "Not only did we not object to that, we embraced it. He's a fine guy."
Despite Huberman's comments, Hunter pointed to an email sent by Ohev Tzedek-Shaarei Torah board member Bruce Zoldan, a Chagrin Falls resident who is also the CEO of Phantom Fireworks. 
"I will finance him if he promises to open and manage a gay bar for former Muslims with Jewish beliefs in Ramallah," Zoldan wrote in an email thread among board members discussing Hunter's firing, a thread that included Hunter. Ramallah is a city in the central West Bank and the de facto administrative capital of the Palestinian Authority.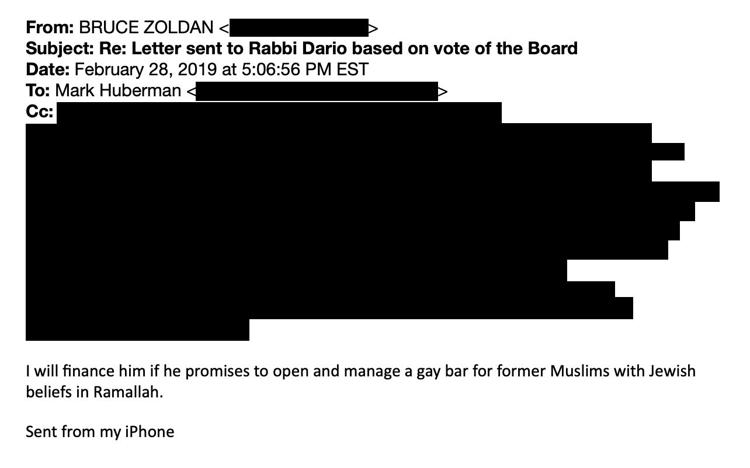 Zoldan confirmed to the Cleveland Jewish News he sent the email, which he said was an attempt at "inartful humor."
"Certainly no bigotry against gays or LGBTQ or Muslims, it was simply to tell him, as the former rabbi of my temple, that if he's speaking out against Israel for human rights violations, he needs to be equally concerned about human rights violations on all sides," Zoldan said. "And if he was to open, and I put it, as I said, trying to have a sense of humor, to say if you opened a gay bar in Ramallah and you said you were a Muslim that turned to have Jewish beliefs, I don't think you'd be very safe there, because the human rights for those communities and those beliefs I just mentioned, aren't very safe there." 
Zoldan accused Hunter of hypocrisy when he asked people to support Israel from the pulpit but then spoke out against Israel in the Cleveland.com article.
"Had anybody known that was the case, he probably would not have remained the rabbi," Zoldan said of Hunter's views on Israel. "It's just common sense. I own a company that sells fireworks. If I have an employee that works for me, that's on my payroll, and he's promoting my competitor and saying my fireworks aren't good or I'm doing something unethical but he's working for me and promoting my competitor, then obviously he's not going to last long. 
"Our rabbi speaking out against something that's very important to our synagogue, as it should be for all synagogues in America, I think was a hypocrisy on his part," he continued. "I called him out on it. If I came across wrong, I apologize, it wasn't meant to be wrong or discriminating against anybody. It's just my true beliefs. He's an opportunist and he'll go to any length and change courses and speak out of both sides of his mouth. The Green Party, whatever he's trying to run for, should be ashamed to have someone like that running as their representative."
Hunter said he requested an apology from both Zoldan and the board for the email but no one has said anything. Disappointed that no board member spoke out against Zoldan's email, Hunter decided to make the email public.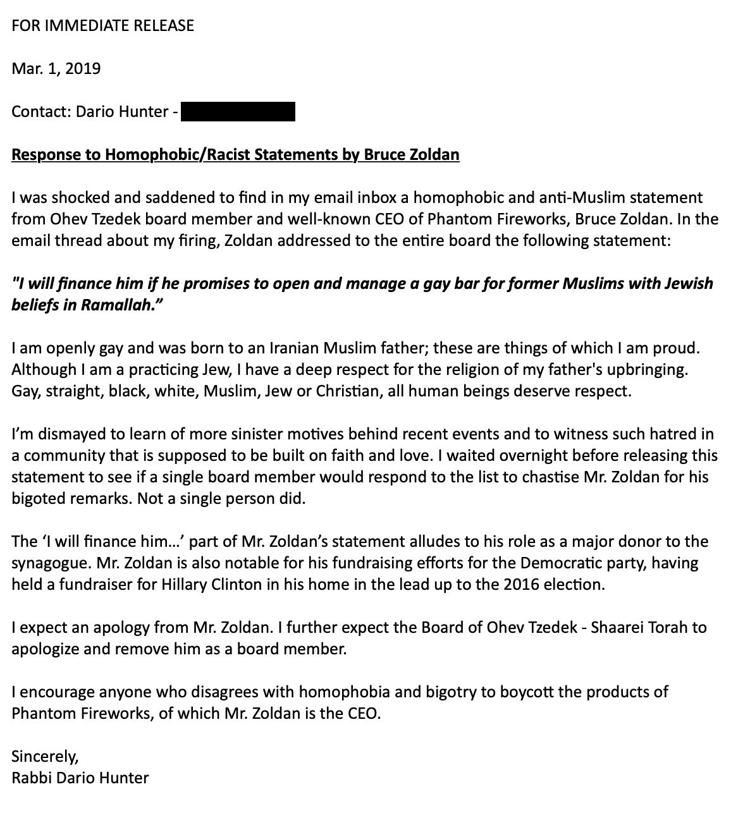 "Everybody deserves respect, no matter what background you come from," he said, adding the matter cuts even deeper than that to him.  
"It seems relatively straightforward that the comments I made about Israel weren't received well and that's why I was terminated, but I think there's really another dimension to this. I think the level of (comfort) they had in cutting me off bears a strong relationship to the level of (comfort) they have with not disputing these kinds of statements. 
"It stresses to me the sense of being 'the other.' It's something I'm used to being, considering my background, but I have to say, given that I was a member of that congregation for years, I didn't feel that way. It's very sad to be confronted with and face this kind of bigotry, to see it exist in a place that's supposed to be about faith and love."