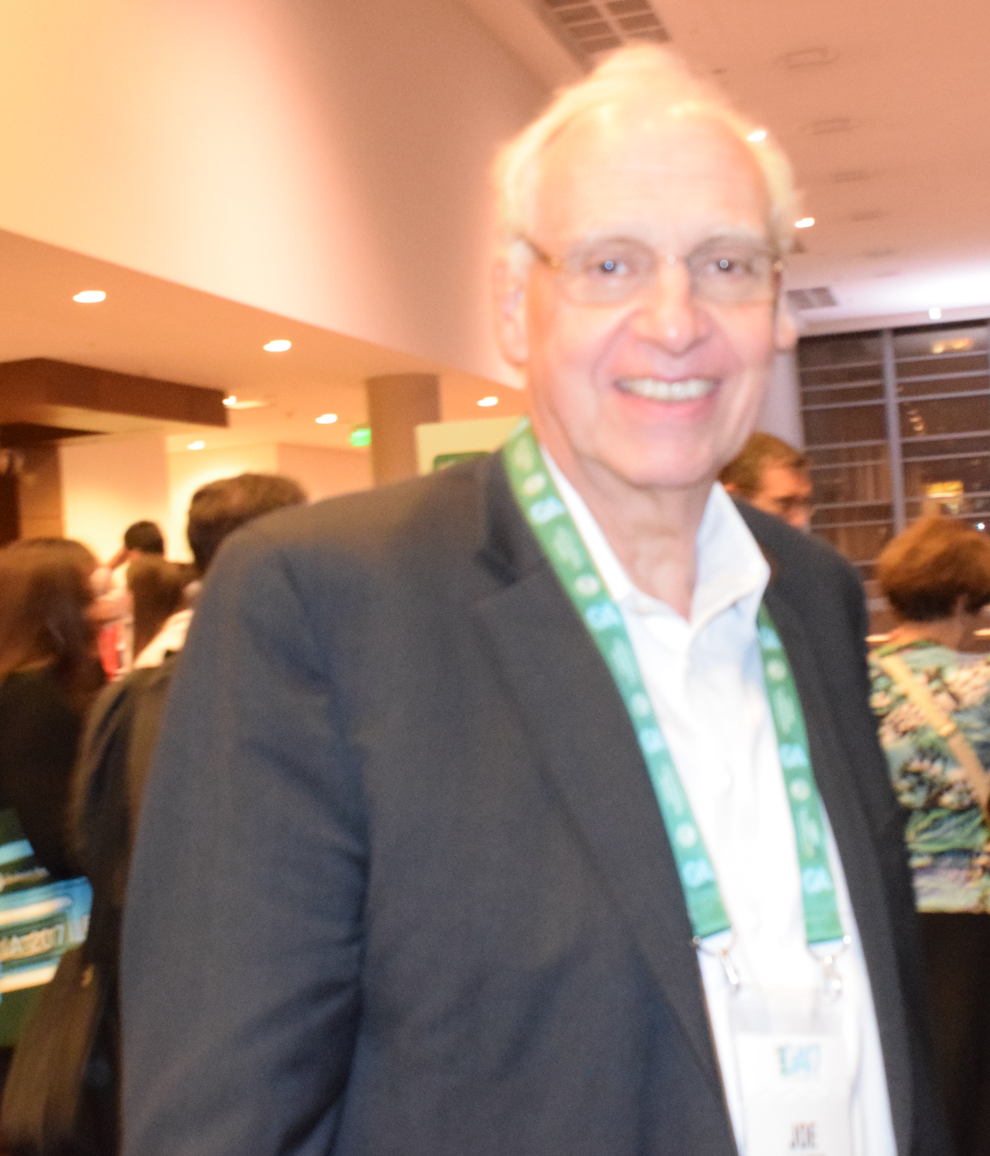 LOS ANGELES – As a former chair of the board of trustees of United Jewish Communities, renamed in 2009 the Jewish Federations of North America, Joe Kanfer of Richfield has seen his share of General Assemblies – and he's been impressed with them.
That was again the case Nov. 12 as Day One kicked off the three-day annual gathering of more than 140 Jewish federations and about 300 independent Jewish communities at the JW Marriott L.A. LIVE hotel.
"It was an engaging plenary," said Kanfer, who served as UJC board chair from 2006 to 2009. "The L.A. mayor was spectacular and so interesting. He was great."
Eric Garcetti is the 42nd mayor of Los Angeles and the first Jew to be elected to the position. Los Angeles is estimated to have more than 4 million people, according the state of California, including more than 650,000 Jews – the second largest Jewish community in America. He spoke about the Jewish roots of the City of Angels. 
"All of us share common threads," said Garcetti, who took office July 1, 2013, and was re-elected March 7, 2017, with more than 81 percent of the vote.
"For me, the story of Los Angeles and our Jewish community starts quite far back in our history. You look in the 19th century ... at a time when this pueblo only had 1,500 people.
"The first nonprofit organization founded in the city was a Jewish one – the Hebrew Benevolent Association. And when you look at the first chamber of commerce president, he was a Jew. When you looked at the city council president in the 19th century, I'm actually not the first Jewish mayor in Los Angeles' history because Bernard Cohn was the city council president in the 1880s. When the mayor died, because that's what charter said, a Jew became mayor – for exactly two weeks, until they realized a Jew was the mayor and they held an election."
After the laughter from the more than 2,000 people in attendance subsided, he clarified, "I'm the first elected Jewish mayor."
Other speakers on the first day included Rabbi David Wolpe, senior rabbi of Sinai Temple in Los Angeles; Julie and Marc Platt, co-chairs of the GA; and Jerry Silverman, CEO and president of JFNA.
Gary L. Gross of Shaker Heights, who is in the second of a three-year term as Jewish Federation of Cleveland board chair, said the opening plenary "was truly inspirational."
"Two themes were highlighted for me. The first was a reminder that Jews help one another wherever they are in times of trouble and on their dark hour," he said. "This was drilled home through a presentation about the plight of Jews in Houston from the recent hurricane. It broke my heart to hear a Houston woman speak about the damage and destruction to her home and so many more.
"It will be a long time before she resumes normal life. But then the federation system kicked in – first on the ground with observers like Clevelander Michelle Hirsch, co-chair of National Young Leadership (Cabinet), who visited Houston just after the storm, and then through the millions of dollars our system raised for the Houston Jewish community. We can all be proud."
Gross also was impressed with speakers who talked about how the federation system has worked for decades.
"We were reminded of other times our system responded to Jews in need," he said. "Almost 30 years ago, the national system organized the march on Washington to plead that the Soviet Union should release our people. I will never forget that day when we marched for our brethren. More recently, Mark Wilf, of the JFNA National Holocaust Survivor Initiative, told us of the millions we have raised for the survivors. Our collective actions really do make a difference."
The message from Wolpe also resonated with Gross.
"As Jews, we can never forget the traditions that inspire us to help other Jews," he said. "He referenced the passage from the Talmud that teaches us that to save one life, it is as if he has saved an entire world. He urged us to continue studying the Torah and Talmud."
Then Silverman "pulled the plenary together," Gross said. "We want to help Jews in need, but we must continue to connect with the next generation through Jewish educational programming. This is why he called for doubling or tripling the number of our youth going to camp, Israel and day school. Then, we will have a vibrant Jewish community motivated and inspired to help Jews in need."
---
DAY TWO: Israeli President Reuven Rivlin will make his first major speech to a Jewish group outside of Israel.
Hedy Milgrom, senior vice president and chief development officer of the Jewish Federation of Cleveland, will be a panelist discussing "Opening Doors: Deploying Donors, Board Members, and Professional Advisors to Source Endowment Gifts."
JEWISH JOURNALISTS IN TOWN: More than 60 members of the American Jewish Press Association are here for their annual conference.
The 2017 Jewish Federations of North America General Assembly left the Washington, D.C. area, home of the last three years, to bring its confe…