Edward H. Kraus said it's an exciting time for him as he prepares to become the first Jewish mayor of Solon.
"When I moved (to Solon) 24 years ago, I wanted to get involved and become active in the community," he said Nov. 7 after learning he had defeated fellow Solon Councilman Doug Magill in the mayor's race. "That's why I ran for city council 16 years ago.
"But I never envisioned this moment, to be the mayor. I think it's about all the hard work I've put in over the past 20 years in the community. I think it's paid off."
According to unofficial, final results from the Cuyahoga County Board of Elections, Kraus collected 3,854 votes, or 54.9 percent, to Magill's 3,164 votes, or 45.1 percent. Kraus is in his 16th year as Ward 6 councilman in Solon, and Magill has served two years as the city's Ward 1 councilman.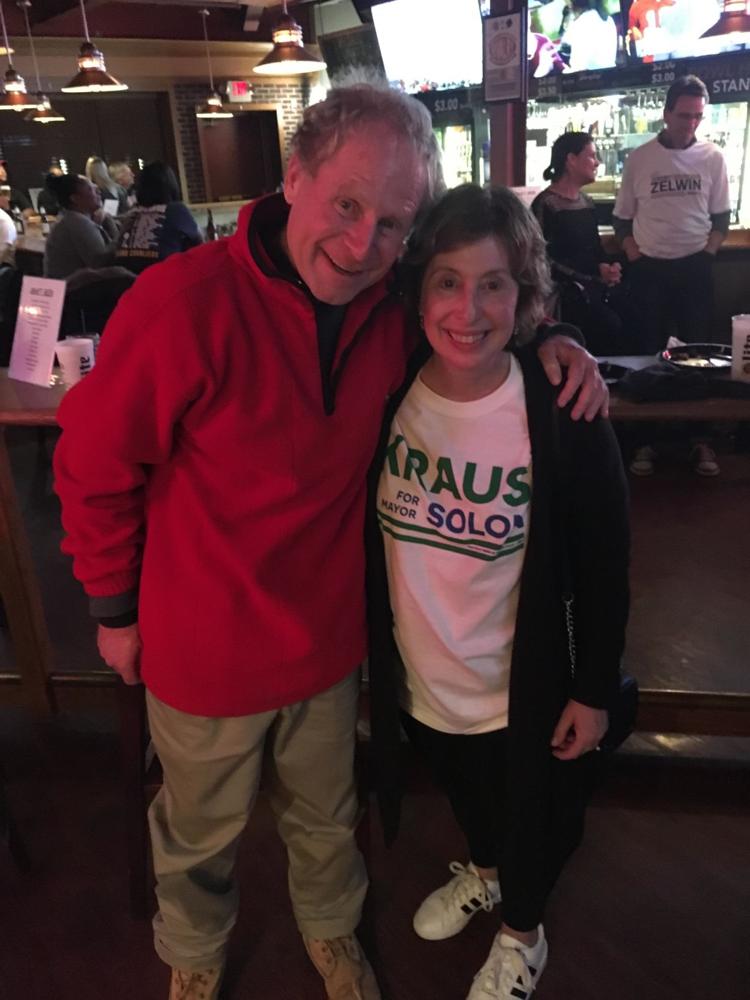 Kraus, who attends Solon Chabad, will succeed Mayor Susan Drucker, who decided not to seek a third term. In the September primary, Kraus was the leading vote-getter over Magill by 15 votes in a three-candidate race.
"I believe you never do anything alone," Kraus said. "You're only as good as your team, and I had a great team. It was a very diverse team, with different religions, nationalities and genders. 
"I'm the one who is celebrating now, but I couldn't have done this without my team."
Kraus, 56, thanked many members of that team during a victory speech at a watch party at Rollhouse Entertainment in Solon. He noted Drucker, who attended the party, came out in support of him early in his campaign for mayor.
"It's a great night for Solon," he told the gathering of more than 100 people. "We can move our city forward and do all the great things we want to do."
While Kraus, a Democrat, was speaking, Magill, a Republican, came into the room to congratulate him, and Kraus called Magill "a real mensch and a real gentleman."
"Politics is over tonight," Kraus said. "For Doug to come here tonight speaks volumes about his character. Now is the time to put aside all our differences and work together for the future of our community."
Magill, 68, turned to Kraus and said, "We have a lot of work to do."
"I will do everything I can to make him successful as mayor of Solon," Magill said. 
In an interview, Magill said, "We'll keep doing whatever we can to make Solon a better city. That was the vision. I don't get to execute it directly, but we'll have a lot of influence.
"I'm very grateful, I'm very humble how many people really believed in this kind of vision and were willing to support it. It's wonderful," added Magill, who will remain on city council. 
Kraus, who serves as Cuyahoga County's director of regional collaboration under Cuyahoga County Executive Armond Budish, said he will step down from that position by Dec. 1.
As mayor of Solon, Kraus said he wants to focus on downtown revitalization and development.
"We have older, aging shopping centers, and one of my visions is revitalization of downtown Solon, starting with the Sears site on SOM Center Road," he said.
A lawyer, Kraus earned his law degree from Cleveland-Marshall College of Law and a Bachelor of Business Administration degree from The Ohio State University in Columbus.
"I went to Cleveland Heights High School, which is a very diverse community," he said. "I always thought that's what I wanted to have in Solon. Here we are, 24 years after I moved here, and Solon is the diverse community that I dreamed of. 
"I think the win tonight validates that type of diversity. Solon is very proud of its diversity."
---
Other Solon races
---
Ed Wittenberg is a freelance writer from Cleveland Heights.
Staff Reporter Alyssa Schmitt contributed to this story.