June 5, 1967
7:45 a.m.
As enemy forces begin to mass at the borders, Israeli air strikes begin, targeting Egypt as a priority. The Six Day War officially begins.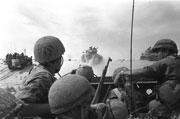 Noon
After a successful surprise attack, Israel begins air strikes on Jordan and targets Syrian air force bases.
---
June 6
1:00 p.m. 
Israel claims the Gaza Strip. 
4:00 p.m.
Egyptian cities of Ras el Naqeb and Jebel Libni are conquered by Israel. Jordanian forces are ordered to retreat from the West Bank
8:00 p.m.
In another tactical victory by Israel, the Egyptian army orders a general retreat. 
---
June 7
6:00 a.m.
Syrian artillery continues its barrage on several Israeli border towns.  
10:00 a.m. 
In one of the most proud and historic moments in the war for the Jewish people, the Old City of Jerusalem is conquered and under Israeli military control.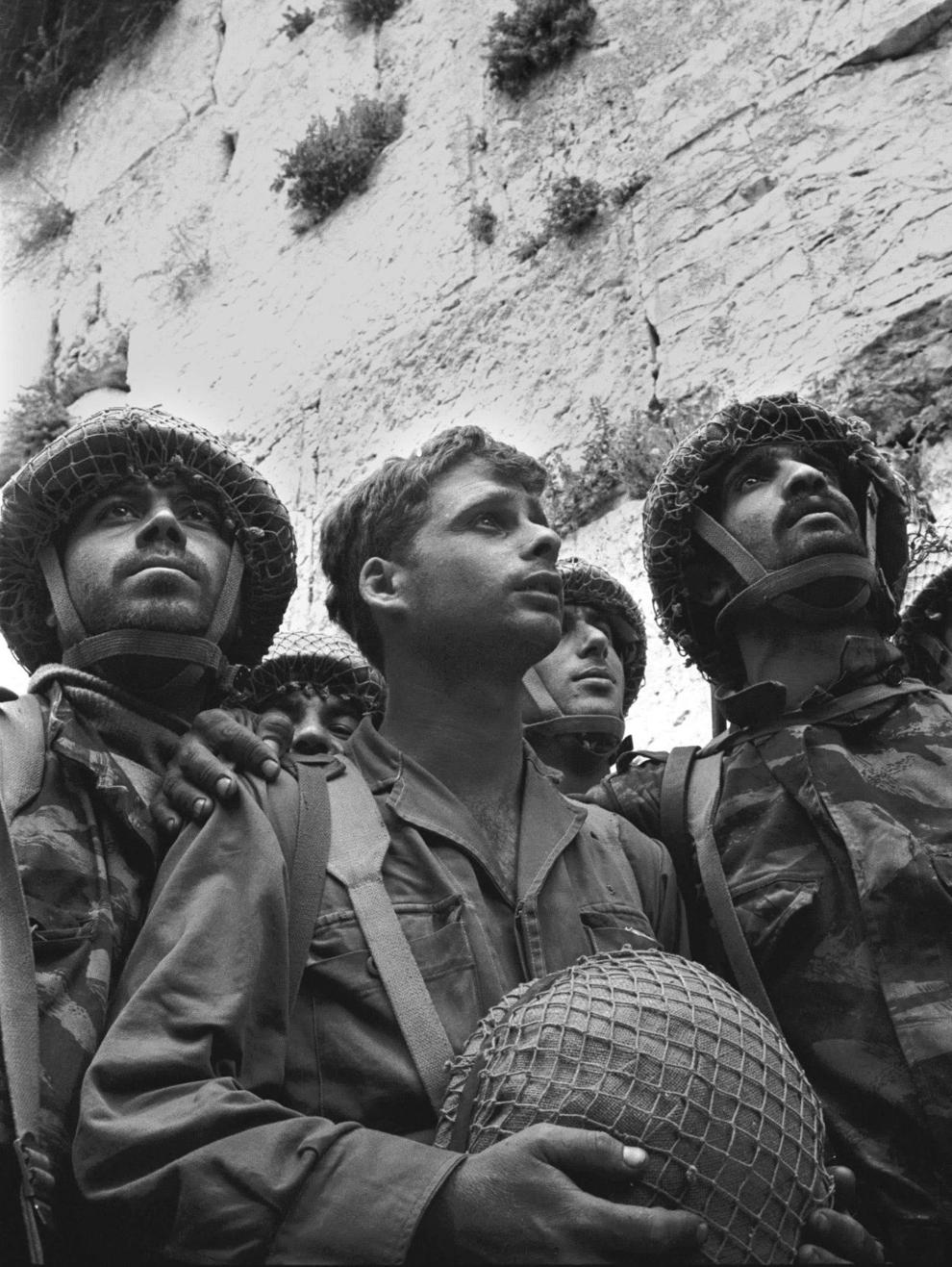 At this point in the war, the conflict reached a point where the U.N. Security Council presented an initiative to hold a ceasefire. Egypt's President, Gamal Abdel Nasser, declines. Israel makes an initiative to stop the conflict before it progresses further, as Israeli Prime Minister Levi Eskol proposes to King Hussein of Jordan that they also begin peace talks and an eventual ceasefire. Israel hears nothing back from Jordan or the king. The Egyptian cities of Bir al-Hasna and Al Qazima are claimed by Israel. Jordanian forces retreat from Israel. Israel begins bombarding the Syrian fortified city of Golan Heights.
---
June 8
6:30 a.m.
The Palestinian city of Hebron is taken by the Israeli army.  
Noon
Egypt accepts a ceasefire with Israel. Later in 1982, a greater degree of peace between the two nations was reached as the Sinai Peninsula would be returned to Egypt in exchange for the full diplomatic recognition of Israel.
1:00 p.m.
Israel Defense Forces destroy bridges along the Jordan river to gain a further tactical advantage. 
---
June 9
7:30 a.m.
Following a two-day indirect attack and a reversed decision by Moshe Dayan – after hearing through an intercepted message by Nasser that the Arab forces are near collapse – a full-scale infantry and tank-supported assault on the city of Golan Heights begins.   
11:30 a.m.
Israel Defense Forces starts its advance from Giv'at Ha'em and makes its way toward the Syrian border.
6:30 p.m.
President Gamal Abdel Nasser blames the United States for his loss in a televised speech before announcing his resignation. 
8:30 p.m.
Nasser's resignation is retracted after anti-aircraft fire and what has been now called a "spontaneous demonstration" by Egypt.
---
June 10
2:00 p.m.
After a full day of relentless battle, Syria begins retreating in Golan Heights, as the capital of Quneitra falls to the Israel Defense Forces.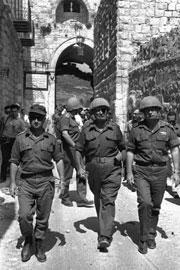 6:00 p.m.
After being advised by U.S. Secretary of State Dean Rusk that they were one of the strongest standpoints to end the conflict, a ceasefire was reached between Israel and Syria.