GV Art + Design's of Cleveland is honoring late Cleveland sports talk legend and Cleveland Jewish News Sports Columnist Les Levine.
Levine, who started writing a column for the Cleveland Jewish News in 2011 and the Columbus Jewish News in 2018, died Feb. 3 at age 74 after a protracted battle with Parkinson's disease and diabetes. He enjoyed a 50-year career on television, radio and the internet and in print.
"We've always been a fan of Les and that's why we were excited to create something special for his family and honor his personality and legacy to Cleveland sports," GV owner George Vlosich said in a news release. "One of the first shows I was on was 'More Sports & Les Levine.' I remember it being a great interview and a lot of fun.
"Through the years he has always been supportive of our talents and has really watched our business grow. Before we even had a successful brand and clothing company, there have been several true Clevelanders through the years that have supported our character, talents and artwork and Les was one of those people."
Proceeds from the sale of T-shirts will benefit the nonprofit Greater Cleveland Sports Hall Of Fame to help build and strengthen youth sports oriented philanthropic initiatives throughout Greater Cleveland. Levine was on the hall's board of directors, holding the title of vice president until his death. He also served as host emcee for the annual induction ceremony, which now includes more than 500 recognized members in 30 sports.
The T-shirt design is teeming with nostalgia and subtle notes that collectively pay respect to the Radio & Television Broadcasters Hall of Fame of Ohio inductee. The shirt modernizes the caricature design of the original coveted "Quickie T-Shirt" created by WHK in the 1990s in response to a popular radio bit that would become an iconic entertaining staple on the airwaves for the man recognized as "The Voice of Truth & Reason In Cleveland Sports."
Like Levine's radio and TV shows, the shirt is also interactive, inviting the "viewer" to "Give Me A How Come Quickie." The most playful element appears on the backside with a quote reminiscent of Levine's traditional closing line, "Of All The T-Shirts I've Ever Worn ... This Is The Most Recent."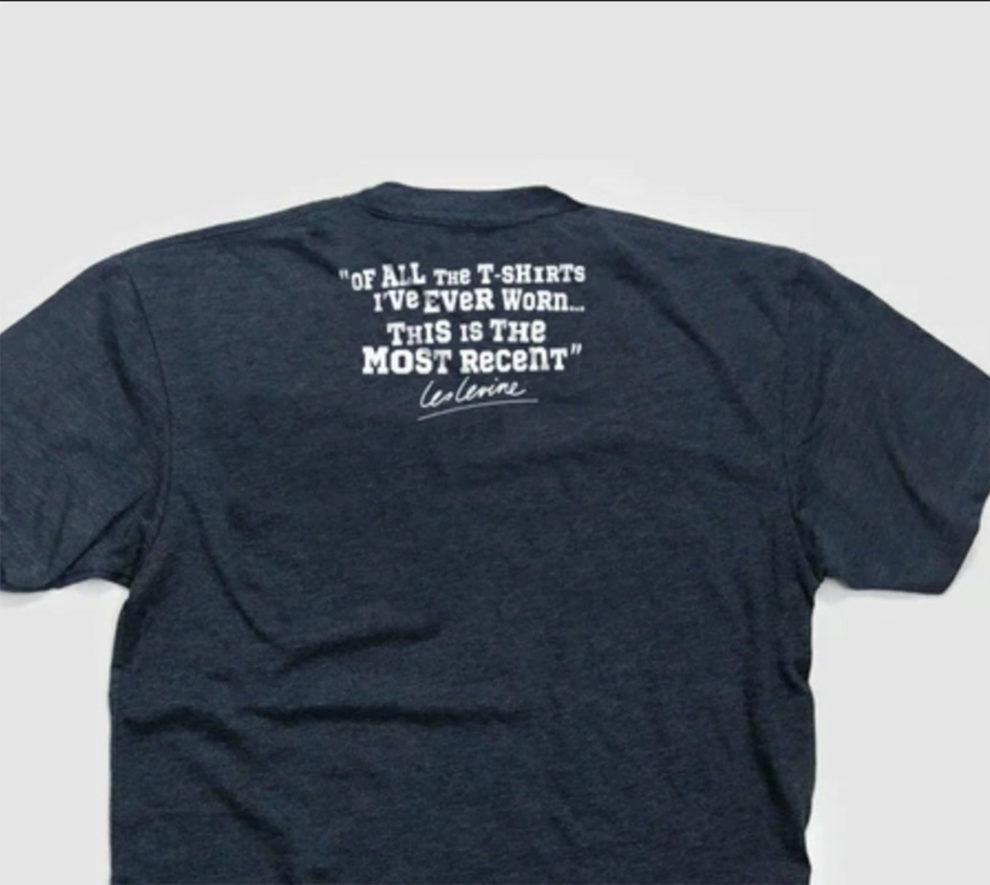 His daughter, Jamie Levine Daniel, a nonprofit management professor at Indiana University Purdue University in Indianapolis, is continuing the family's association with the Greater Cleveland Sports Hall of Fame by consulting with its board.
"This shirt is a wonderful tribute to dad's legacy.," she said. "The personalized design reflects GV's connections to both More Sports & Les Levine and the local sports scene. We look forward to seeing people wearing this shirt around town and at home games, knowing that an organization important to us, and the city, is being supported along the way."
The tribute is printed on soft 60/40 navy blue heather T-shirts. Unisex style T-shirts are available in sizes small to 3 extra large for $25 each. To order a shirt, visit bit.ly/3sNYgLx.