Palestinian leader Mahmoud Abbas is not having much success lately.
Tensions within his own Fatah movement and with Hamas in Gaza continue to escalate, and it is hard to remember when relations with the United States were worse than they are now.
On Monday, Abbas called the U.S. ambassador to Israel a "son of a dog" for what he perceives to be his favoritism of Israel.
Kobi Michael, a senior research fellow at the Tel Aviv-based Institute for National Security Studies, told JNS that Fatah does not want reconciliation with Hamas unless it will be according to Abbas's conditions (one state, one rule, one gun), and that the assassination attempt against Prime Minister Rami Hamdallah in Gaza only made the situation worse between the two parties.
"If the Abbas-ruled P.A. will impose sanctions over Gaza and escalate the situation, there could be an explosion between the two sides," warns Michael, noting that "the P.A. is stopping its funding of Gaza, and the situation there is difficult."
However, he does not see Hamas moving to rocket attacks against Israel right now or concentrating on tunnel attacks, understanding that it is blocked by Israel, which has been discovering and destroying the tunnels with the help of new technologies.
"Hamas is going in a new operational direction—mass demonstrations along the fence, hoping to embarrass Israel and drag it into a violent reaction that legitimizes their violence, leading to escalation they believe works in favor of their interests," explains Michael.
He points out that Abbas is not making a strong effort to prevent incitement or to stifle an atmosphere that encourages terror attacks. At the same time, he notes that the Americans and Israelis might make unilateral moves if Abbas rejects negotiations.
What will happen after Abbas?
A plethora of speculation has hovered over who will take over after Abbas, with reports that his health is deteriorating, and that he himself is seeking to arrange a successor.
Ido Zelkovitz, head of the Middle East Studies program at Yezreel Valley College and policy fellow at Mitvim think tank, told JNS in an interview that the assassination attempt was not just trying to target Hamdallah, but the whole reconciliation process between Hamas and Fatah.
He asserts that it doesn't matter who was behind the attack as much as the message it conveyed. "Until now, Abbas was looking for the right excuse to stop the reconciliation process," he says, adding that Hamas is doing everything possible to get a foothold in the West Bank.
"PLO leader Jibril Rajoub is the most prominent figure in Fatah besides Abbas and has a security background, as well as a place on Fatah's Revolutionary Council and Central Committee," notes Zelkovitz. "He is a popular figure who had chaired the Football Federation and has all of the capabilities to lead Fatah from a political perspective."
Plus, he says, he "has very strong backing on the street."
The Palestinian expert, however, does not see Abbas as favoring Rajoub to succeed him.  More likely is Palestinian intelligence chief Majid Faraj, the closest person to Abbas, according to Zelkovitz. In this regard, it's important to mention that Faraj was considered in the past as one of Rajoub's people.
Faraj lately has been seen as close to Fatah vice chairman Mahmoud Al-Aloul, who was appointed by Abbas to his new position and he is also considered as a main candidate in the succession competition, continued Zelkovitz.
"A downside of Faraj is that it is unclear how popular he is, though he is an important figure inside Fatah and has strong support inside the security apparatus," explains Zelkovitz. Another possible stumbling block for Faraj is that he is sometimes identified as a figure that supports the unpopular Abbas policy of security cooperation with Israel.
Regarding Marwan Barghouti, who is currently jailed in Israel for orchestrating the murder of Israelis, "he is very popular on the ground, but doesn't have the capability to win," according to Zelkovitz, who is also a senior research fellow at the Ezri Center for Iran & Persian Gulf Studies at the University of Haifa.
And then there is Abbas rival and exiled politician Mohammed Dahlan, who "has a chance to be part of the future leadership, but does not have a chance to succeed Abbas."
The next Palestinian leader after Abbas will probably need to form a coalition with Dahlan, bringing him back into Fatah, he says.
Asked if there would be violent chaos after Abbas dies, Zelkovitz replies that he does not see a great chance for much aggression or anarchy. "Fatah has no interest of destabilizing the situation. [It] does have a need to present an image of national unity among the P.A. leadership."
Questioned as to whether Israel has an interest in breaking up the P.A. into factions, he replies that this could be an Israeli interest, but also points to Israel seeking "a unified leadership that would prevent anarchy and take responsibility to maintain security cooperation which benefits both sides."
Michael predicts an unruly situation with perhaps a temporary coalition among the major players, but does not think it will last too long.
"Dahlan is waiting for an opportunity to return," he says, "and if reconciliation with Hamas fails, Egypt may bring Dahlan back to Gaza in order to stabilize the situation there and build his power as an alternative to the day after Abbas."
U.S.-Palestinian relations in a rut
As for the situation between Abbas and the United States, the INSS expert says "the Americans are pushing a plan, trying to coordinate it with their regional allies and building a solid coalition to pressure the Palestinian leadership by leaving it with no other option."
He asserts that "Abbas will not accept any plan introduced by the Trump administration. In the meantime, the Arabs—mainly, the Saudis and Egyptians—are pressuring Abbas to accept Trump's plan."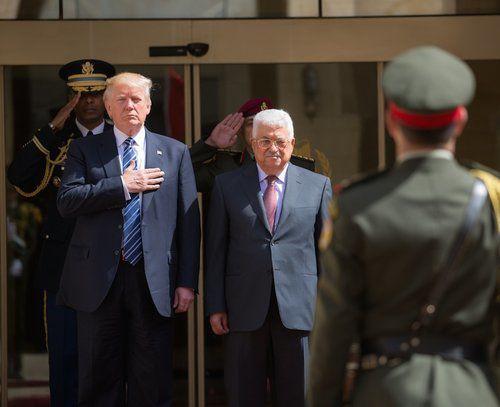 "Abbas feels as though he has lost the Arabs, and at the same time is feeling pressure from the street against his legitimacy. In addition, the Palestinian strategy of promoting the international delegitimization of Israel has not had great success due to the new approach of the American administration."
Zelkovitz says the Palestinian leadership was making a big mistake by ignoring the U.S. administration, as it will only harm their cause: "There can't be a real solution to the conflict without American involvement, and the Americans have the ability to influence world opinion about how the Palestinians are perceived."
"The U.S. is a superpower, not the Palestinians," quips Zelkovitz.
As for the Saudis and Egyptians, Michael affirms that "they are primarily worried about Islamist groups, including ISIS in the Sinai and in Libya, political Islam and Iran."
"They understand the cruciality of the regional alliance and security cooperation with Israel—and with American backing—and therefore, the Palestinian issue [has] become a strategic burden that should be removed," he says. "The only viable and realistic option they see is Trump's plan."