Over this past year, we lost four extraordinary Cleveland leaders from whom we can learn a great deal: Mort Mandel, Sam Miller, Steve Minter and Norm Krumholz. I had the great privilege of knowing, working with and learning from each of them.
Each rose from humble beginnings to positions of extraordinary influence and impact that went far beyond the boundaries of Cleveland.
At a time when our country is deeply divided and our city and region are charting a new future, it is worth noting that Mort, Sam, Steve, and Norm were the kind of leaders we need to bridge divides and to rally us to greater heights.
Mort Mandel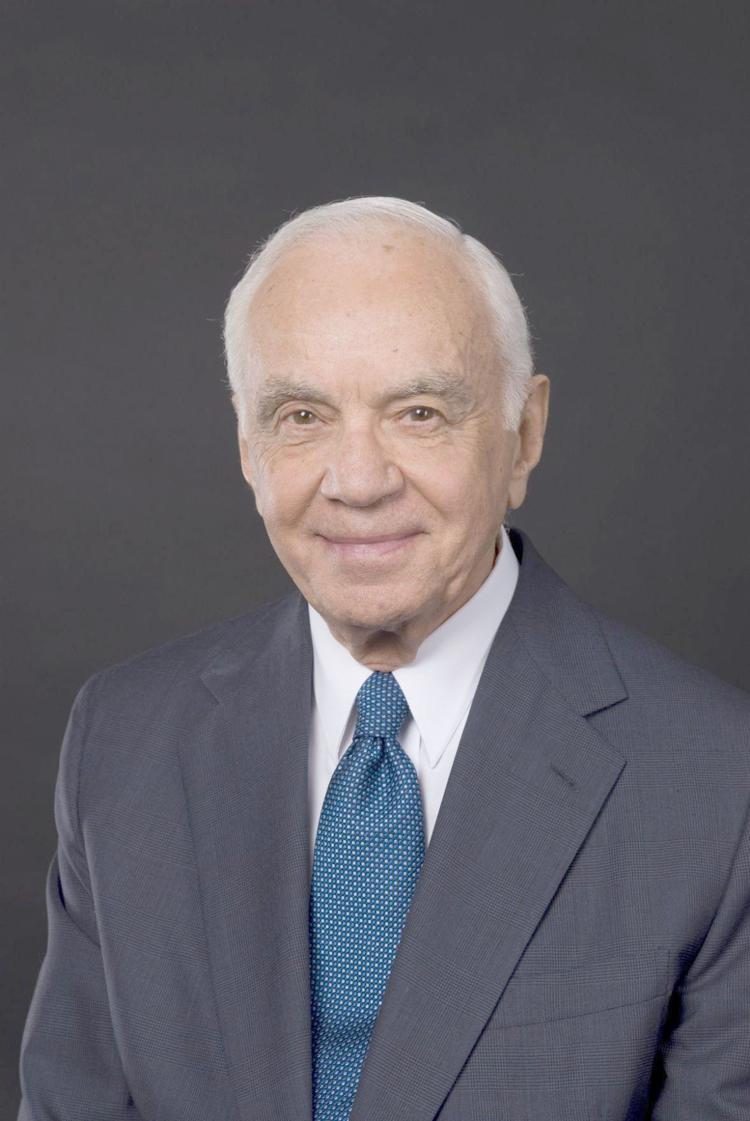 Mort Mandel was chairman and CEO of the Jack, Joseph and Morton Mandel Foundation, which gave deeply and widely to Cleveland's cultural, health care, educational and Jewish institutions.
In 1940, with an investment of $900, brothers Joseph, Jack and Morton Mandel formed Premier Automotive Supply in Cleveland, later known as Premier Industrial Corp. The brothers bought the furniture, fixtures and inventory remnants of a small auto parts business from their uncle, Jacob Mandel. They transformed it into a public global distributor of industrial and electronic parts that merged with a British company for $3 billion 56 years later.
I met with Mort at least once a year for more than 25 years at his small, modest, windowless office in Premier's corporate headquarters at 4500 Euclid Ave. or for breakfast at the Union Club, to ask for financial support for my campaigns for public office and to seek his advice on public policy issues.
Years later, when I became president and CEO of the Centers for Families and Children, we purchased and renovated Premier's headquarters in Midtown. I invited Mort to speak to our more than 300 employees so they could appreciate the unique history of our new workplace. They were transfixed as he shared his philosophy about living a life with meaning, purpose and commitment.
I remember him telling the story of the time one of his businesses suffered a work stoppage. In the middle of winter, strikers picketed outside Premier's plant in Wooster. Mort arranged for a pick-up truck to take sandwiches and hot coffee to the employees striking against him because it was important to him that they be treated with compassion rather than antagonism.
He also spoke passionately about his mother who, despite their family's humble circumstances, was always helping neighbors and friends without any expectation of repayment. He said he and his brothers learned the importance of giving back from her.
Sam Miller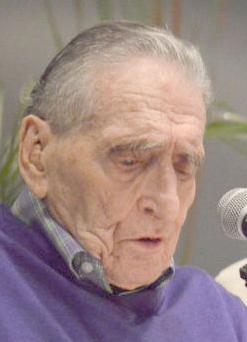 Sam Miller grew up poor speaking only Russian and Yiddish. As a boy, he rode along in a rented, horse-drawn wagon down Cleveland streets as his father looked to buy paper and rags.
As the longtime co-chairman and treasurer of Cleveland's Forest City Enterprises, he and the Ratner and Shafran families made an historic impact on Northeast Ohio that likely will never be matched.
I'll never forget my first meeting with Sam in 1980. His longtime secretary and gatekeeper, Eleanor, ushered me into his office. He was on the phone talking loudly to Ohio Gov. Jim Rhodes and didn't look up as I took a seat. His office walls were filled with photos of Sam with Israeli prime ministers, U.S. presidents, U.S. senators, governors, and Cleveland mayors.
I was running for state representative, my first political campaign, and I was nervous and intimidated.
"What's your name?" he barked.
As I stammered and introduced myself, he asked me why I would want to leave my law firm to run for public office. Before I could answer, he told me all the reasons I shouldn't run.
Twenty minutes later, he handed me a check for $1,000, the largest contribution I had ever received.
Getting Sam Miller's support and political blessing was a political rite of passage for many local and statewide candidates. Every time I ran for office, Sam told me not to run, and then he handed me a donation.
Years later, my wife, Peggy, and I told Sam that we had decided to name our dog after him because he was both ornery and lovable. I was worried that Sam might be offended, but he laughed. I think it was one of the few decisions I made that Sam agreed with.
Steve Minter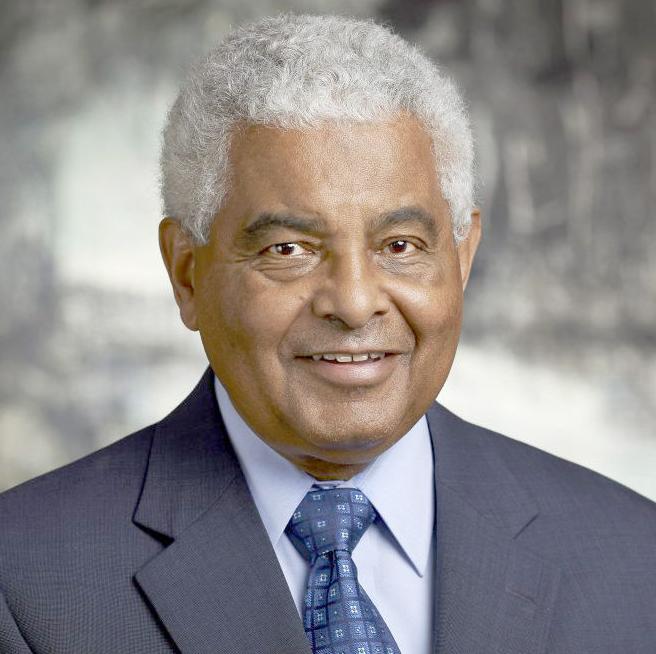 Steve Minter, the oldest of eight children in a family that also emphasized service and education, worked three jobs to put himself through then-Baldwin Wallace College. One of them was washing dishes in the dining hall, where he met his wife, Dolly, who was working as a waitress. Although inter-racial marriage was still illegal in 22 states, they were married in 1961.
He earned a master's degree in social work from Case Western Reserve University and within a few years became the first African-American and youngest director of the Cuyahoga County Welfare Department. Later, he took on state and national leadership positions in human services and education and in 1984 became the first African-American leader of a community foundation, the Cleveland Foundation, where he quadrupled the endowment to $1.5 billion.
Under his leadership, the foundation supported neighborhood revitalization, public school improvement and the redevelopment of Playhouse Square and were early funders of AIDS public health initiatives. After retiring from the foundation, Steve spent 15 years as executive-in-residence and fellow at the Levin College of Urban Affairs at Cleveland State University.
Steve was one of the humblest people I've met. Whenever I was in his presence, I felt his calmness, wisdom, kindness and support. He was the true servant leader who, despite his enormous influence and power, always made everyone with whom he met feel like they were the most important person in the room.
As Ronn Richard, president and CEO of the Cleveland Foundation, noted in his eulogy, Steve was a "master bridge builder" and his "greatest legacy was the people he trained, mentored, transformed and loved." I was honored to be one of them.
Norm Krumholz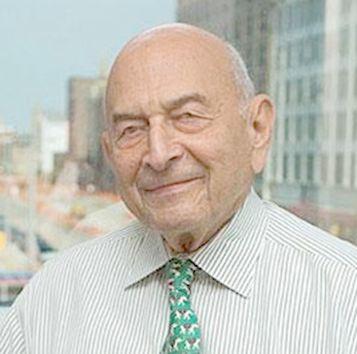 Norm Krumholz, Cleveland's planning director under Mayors Carl Stokes, Ralph Perk and Dennis Kucinich, and professor of urban studies at Cleveland State University, was known throughout the country as a passionate advocate for what he called "equity planning."
Long before city leaders were talking about inclusive economic growth, Norm understood that most urban neighborhoods, even those nearby reviving downtowns, were characterized by high poverty, low social mobility, and growing income, health, education and wealth disparities. Norm advanced the principle that urban planning should build equity for low-income residents of disadvantaged communities. His 1990 book, "Making Equity Planning Work,'' is considered a classic.
When I traveled the country as president and CEO of CEOs for Cities, as soon as I mentioned I was from Cleveland, urban planners didn't ask me about Cleveland Clinic or The Cleveland Orchestra – they asked me if I knew Norm Krumholz.
The lives of Mort Mandel, Sam Miller, Steve Minter and Norm Krumholz were intertwined with each other and with the history of Cleveland.
At a time when many focus on doing more with less, Mort, Sam, Steve and Norm lived their respective lives focused on doing more for those who have less. As they grew in stature, fame, and influence, they never forgot those far less fortunate.
These extraordinary leaders set a standard and raised the bar for all of us. As we chart Cleveland's future, their humility, empathy, and inclusive vision should be our guideposts.
---
Lee Fisher is dean of Cleveland State University's Cleveland-Marshall College of Law in Cleveland.