There is a certain flow to the year in Jerusalem – one holiday moves quietly into another, although sometimes, as in the case of Purim, not so quietly. As soon as Tu b'Shevat was over, we were planning our Purim costumes, seudot (meals) and spiels (satirical plays), and making oznei Haman (Haman's ears or hamentaschen) and donations to the poor. Family members visited us during this time, increasing the seasonal joy.
The weather is warmer (sorry, Cleveland), with lots of sunshine. Flowers bloom all over our neighborhood, filling the air with a rich sweet perfume. At HaTachana HaRishona (First Station), one has only to take a few steps onto the Derech HaRakevet (Train Street) to breathe in the smells of rosemary and lavender plants lining the path. 
And then thoughts turned to Pesach …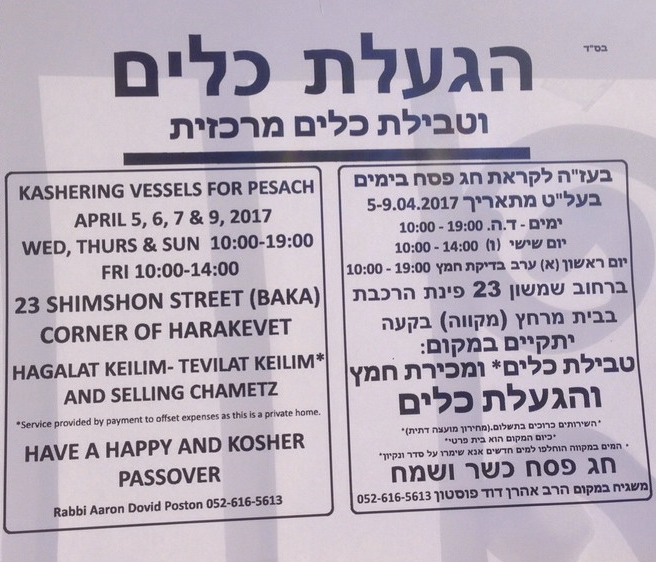 Invitations to sederim were extended and plans firmed up. All month, sales of clothing and housewares were prominently on display, as have been ads for Pesach "vacations" at resorts in Israel and Cyprus, urging Israelis to "leave the cleaning and cooking to us." With kids off from school and many businesses closed during this week, it's a perfect time for a vacation. 
Pre-Pesach days are also the time for last-minute shiputzim (renovations), and kablanim (project managers) are very busy. We fortunately discovered during our first year here that this is not the time for renovations and repairs. Renovations and repairs can be very painful when a plumber, electrician or other tradesman is all too eager to take advantage of new olim, especially trusting Americans.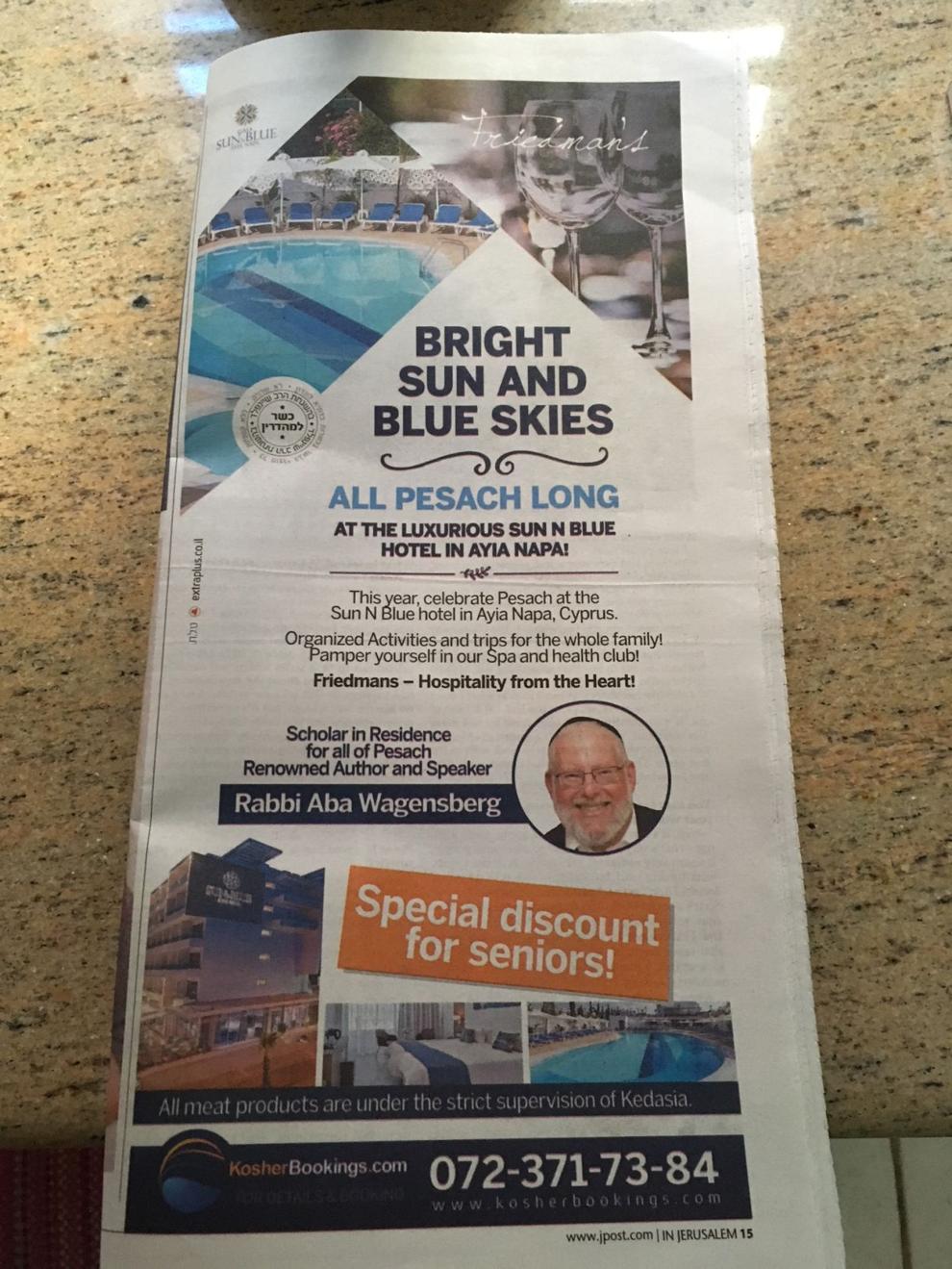 We have had our share of such people, learning some lessons the hard way. But we also have met tradesmen who are as honest as they come and such good people that they will run over to make sure your pump is working or to quickly fix your front door lock. 
Egged Bus Co. decided to do its own shiputzim and put into effect on March 8 a new format for the payment of bus rides via the "rav kav." No longer are bus drivers able to fill up these cards for riders. Instead a rav kav with a special chip must be pre-purchased and filled at designated locations throughout the city.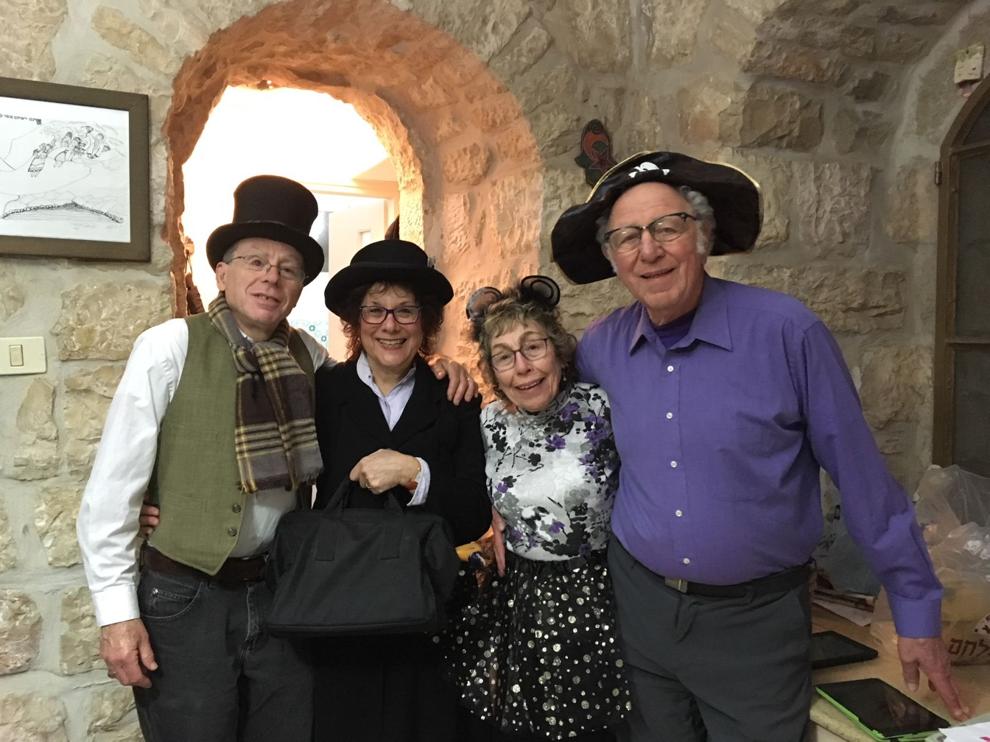 The citywide change came the day before the seventh annual Jerusalem Marathon, when 35,000 runners, in many categories, from 72 countries, raced 42.4 kilometers up and down Jerusalem's hills, through the Old City and into neighborhoods and the government area. Miraculously, it always seems to me, the race takes place in flawless safety, with Yerushalmis cheering the runners on all along the routes. 
Last year was the first Pesach we spent away from our family and we were fortunate enough to be invited by Cheryl and Eric Mack to their seder. In our Cleveland home, getting ready for Pesach involved changing dishes, pots and pans, finding the right stores for Pesach food and more.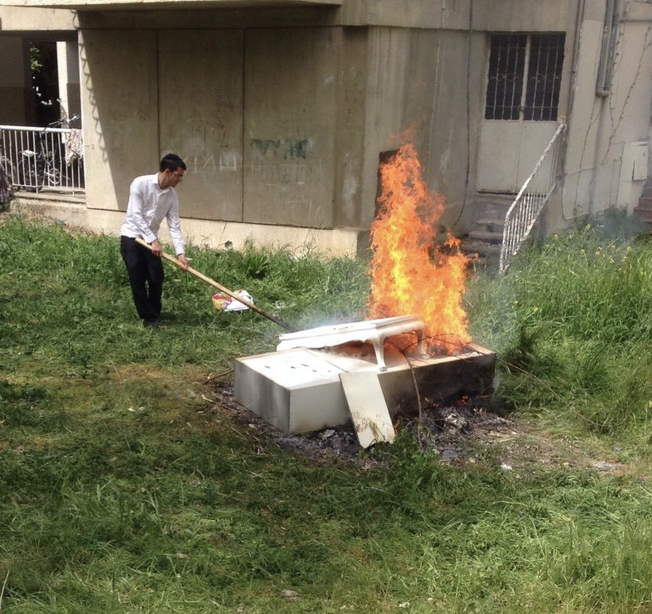 But here in Jerusalem, metal pots are kashered on a street corner in a big pot of boiling water, sometimes with a blow torch, and every grocery store and macholet has kosher l'Pesach food … but watch out for the kitniyot favored by Sephardic families and by more and more Ashkenazim. 
Our seder this year will be with our close friend and scholar, Debbie Weissman and her family. In 1993, Debbie introduced me to Kehilat Yedidya, the synagogue she helped found. It is here that we have made all our good friends. It is this community that has made a vast difference to our absorption process and comfort with our aliyah.
Wishing all of you a warm, sweet Pesach.
---
Julie Jaslow Auerbach, a Jewish educator who lives part of the year in Jerusalem and part of the year in Shaker Heights, writes regularly about life in Israel for the Cleveland Jewish News.