A year ago on a cool morning in Jerusalem, I walked to the Western Wall of the ancient Temple. I had just completed two weeks leading an Israel trip for my synagogue. I walked to the Old City alone. When I reached the Kotel, I lay my forehead against its ancient stones.
When I pray, I try to convey my gratitude for my life and my feeling of kinship with my ancestors. But this time was different. This time I was praying for things I would soon desperately need: wisdom, discernment and courage. Just hours before I left for my trip, I'd been diagnosed with an aggressive metastatic cancer. Now, at the most iconic site in the Jewish world, I came with a prayer to place in the wall, written on the back of a doctor's business card. I smiled, imagining that God would surely appreciate having my oncologist's email address. But my grin was short lived. Emotions welled within me. In front of complete strangers, I doubled over. My face fell into my hands and I wept.
It seems like every day since I've been regathering my poise. In cancer treatment for a year now, I have considerable side effects, such as trouble concentrating and performing formerly easy physical tasks. I look alright on the outside. But inside, I'm trembling. Thank goodness my family and community has stood by me through hospitalizations, treatments, tests and therapies.
People have asked: what helps to keep me steady? There is not just one answer. But each night, before placing my medications in my pill container, I pause for a mindfulness meditation. Like a parent willing their child's flight to arrive safely home, I visualize each medicine going to its intended destination. At my treatments, I similarly close my eyes and breathe, asking myself, "What can I do to win this fight?" I do not always have an answer. Nor can I always beat back my frightened thoughts or premonitions. All I try to do is sit with my experience of the present moment and just listen to what arises.
Lately, what has arisen is a realization that the physicians and nurses caring for me are an answer to my prayers a year ago. So many of the medical personnel delivering my lifesaving immunotherapy have become living exemplars to me of the wisdom, discernment and courage I still need to beat cancer.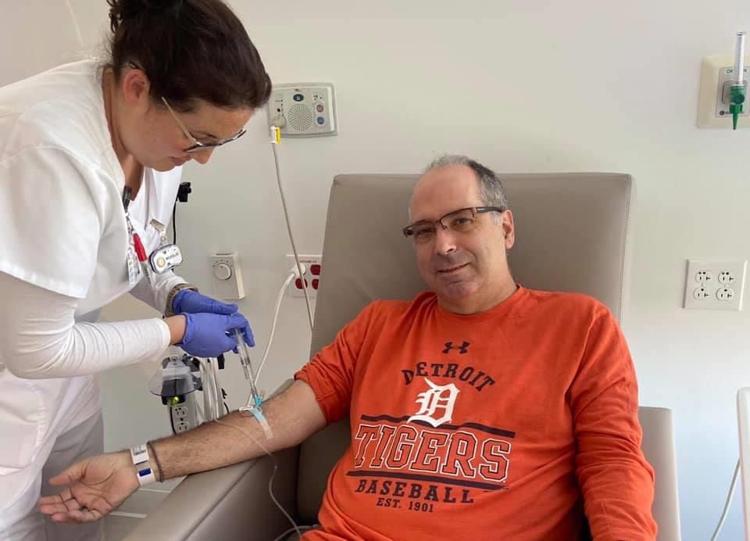 There is a nurse who noticed three months ago that I would arrive to my room with several bandages over my tired veins. She looked me in the eyes and promised she could do better. Placing warm pads against my arms, she inserted my IV swiftly and told me to look for her at future treatments. I'll never forget her kindness, and I always look for her on treatment days.
There is a rheumatologist I reached out to on Rosh Hashanah morning because my joints were so badly inflamed. I hadn't even left services at Fairmount Temple when she called me back to hear about my symptoms, and to carefully explain her recommendations. Exactly when I needed her, this doctor was present with her expertise and her compassion.
My oncologist and the nurses on her team have been deeply protective over me. They address me as a whole person and not just a patient chart filled with test results. In the presence of my oncologist, I feel like a prizefighter with her as my trainer, standing in my corner with a plan for me to win the next round.
I didn't know any of these people a year ago. Now I can't imagine going forward without them. For the health care workers I've encountered carry the prized traits our faith extols: chochmah ("wisdom") gleaned from medical knowledge, and n'vunah ("discernment") to apply what they know to help each patient fight for their life. In recent weeks, I've been in and out of the hospital for surgery, for recovery and for monthly cancer treatments. Even while wearing masks and at a safe social distance, I've seen how the people staffing our hospitals are living out my highest hopes and values. Whether they are helping someone like me fight cancer or another person fight COVID-19, I am moved by what our health care workers do.
When I next get to the Western Wall, perhaps even next year in Jerusalem, I hope to stand tall as a survivor, with nothing in my heart but gratitude for these humble souls who've touched my life for the better.
---
Rabbi Robert Nosanchuk is senior rabbi at Anshe Chesed Fairmount Temple in Beachwood.