Along with a standing-room only crowd, Gov. Mike DeWine listened to testimony offered by a Holocaust survivor and an Ohioan who fought in World War II during the 39th annual Ohio Governor's Holocaust Commemoration on May 9 at the Ohio Statehouse in Columbus. 
The topic of the program – the first such commemoration hosted by DeWine – was "Works of Compassion: Stories of Rescue." Survivor Dr. Felix Garfunkel of Dayton, who was born in 1931 in Romania, shared the story of how he and his parents avoided death at the hands of the Nazis.
"In 1940, the Soviet and German foreign minister entered into an agreement, so the Soviet troops entered our hometown," he said. "Suddenly, we were part of the Soviet Union. They took everything. Businesses all became property of the state. Scarcity started soon."
Garfunkel, who moved to Ecuador with his parents following the Holocaust because they could not secure visas to move to the United States, met the woman he would marry six months later while in that country. Erika, his wife, had moved to Ecuador from Germany with her family in 1939. The couple has three adult children, one of whom is deceased, and six grandchildren. Garfunkel worked as a radiologist from 1962 to 2010 and is active at the Dayton Jewish Community Center, he said. He also served on the board of Temple Israel in Dayton and is a member of three Dayton-area synagogues.
During his remarks, DeWine discussed the threat hate still holds over today's world and American society, noting the threat level at places of worship "remains high."
"Hatred can have a devastating effect on others. Not even houses of worship are immune today from violence," DeWine said.
He announced Ohio will soon host a faith-based summit to discuss security and safety measures for religious institutions in the state. 
During the program, June Gutterman, outgoing CEO of Columbus Jewish Family Services, and
Joy Soll, board chair of the organization, accepted a resolution from the Ohio Senate recognizing May 9 as Holocaust Commemoration Day. JFS' Survivors of Nazi Persecution program assists Holocaust survivors through a range of services, which expanded under Gutterman's leadership over the last 10 years. 
"I felt incredibly honored," said Gutterman in a telephone interview. "I mean that with great sincerity. Our ability to work with survivors is a gift. In our organization, we have a moral imperative to help them live out their lives in dignity. They are alive. They are survivors. They came from shtetls and G-d knows where else, and they were standing in front of the governor."
Michael Broidy, senior vice president of corporate affairs at Schottenstein Stores Corp., accepted a resolution from the Ohio House of Representatives.
"It was an honor to be a part of the governor's Holocaust program," Broidy said during a telephone interview. "It's gratifying to know the Jewish community has friends as well as strong support from both the Ohio governor and members of the Ohio legislature."
Also during the program, Eydie and Don Garlikov of Columbus received an honor from the Ohio Legislative Black Caucus. 
David Goodman, former director of the Ohio Development Services Agency and a longtime Ohio politician, introduced Garfunkel.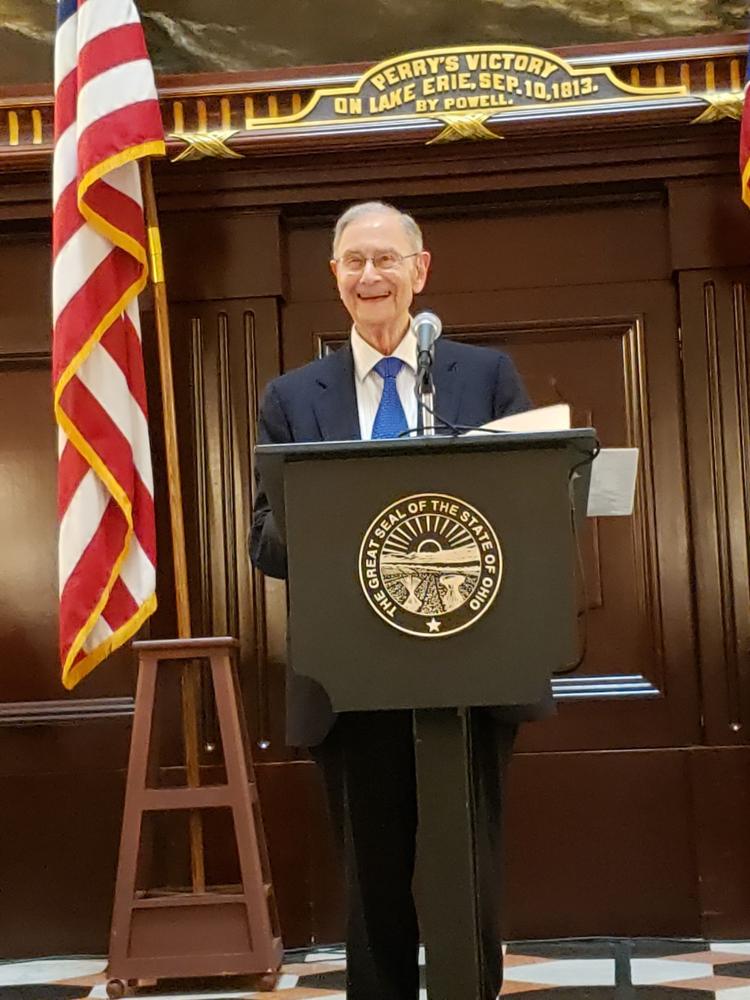 "It is always an honor to participate and this is one of the most important events I participate in every year," Goodman said, adding the program's emphasis on peace is a universal message he supports.
Another highlight of the program was testimony by Donald Jakeway Sr., a highly decorated World War II veteran who parachuted into Normandy, France as a member of the 508th Parachute Infantry. 
Jakeway, 97, returned to his hometown of Johnstown, Ohio following the war, where he embarked on a business career and became active in community affairs. He also wrote a book about his World War II experiences, "Paratroopers Do or Die." 
"If the Allies had lost the war, Hitler would have ruled the world – and he came close," said Jakeway, adding Adolf Hitler sought to achieve his diabolical plan by having Jewish, black and all non-blond, blue-eyed people killed. 
"This is a very emotional event for me because it means so much to serve my country," he said. "To enter the statehouse and shake hands with the governor means a lot to me. I love America."
To remember Holocaust victims, six candles were lit by DeWine, Garfunkel, Jakeway, Goodman and Ohio Reps. David Leland, D-Columbus, and Dave Greenspan, R-Westlake. 
Groups of Jewish senior citizens from both Cleveland and Columbus visited the state capitol for the program.
Eva Haig, 87, a native of the former Czechoslovakia and resident of the Wexner Heritage House in Columbus, survived the Holocaust. Although she never lived in a concentration camp, her only brother was killed in one. 
"Today's program was engaging," she said of the commemoration. "I enjoyed hearing a former soldier and survivor and found it very interesting."
Tami Kamin Meyer writes for the Columbus Jewish News from Bexley.